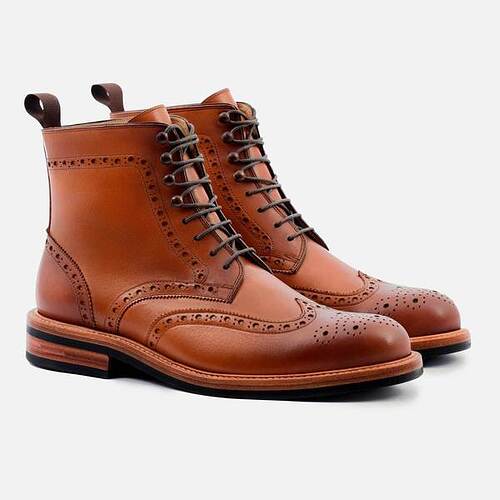 I'm a huge fan of Beckett Simonon. They create beautiful, handmade shoes in small batches at incredibly affordable prices. I purchased their Morgen Classic a few months ago and was blown away by the quality and craftsmanship.
Anyways if you've been eyeing something like Allen Edmonds Dalton, this may be a solid alternative for about a third the price. Get the Nolan Brouge Boots for $179 with discount code NOLAN.
If you're interested in the details, here's the full email from Beckett Simonon:
Hello there,

Boots shouldn't only protect you, they should wrap your feet in luxury. You deserve a warm and comfortable interior and a knockout exterior, don't you?

Producing a plain boot is one thing, but boots with ornamentation - such as broguing and wingtips - is something else altogether.

Such details are difficult and time-consuming to create. Especially when they're created by hand. Cutting, punching, sewing. Many steps are involved with getting the brogued design just right. If the holes are too deep they look cavernous. Too slight and they look like a scar.

The swooping sides and serrated edges of the wingtips must also be precise . You don't want to look lopsided do you?

Fine points like these really shine on the Nolan Brogue Boots. Then there is the sewing together of the various components to consider. All of these steps can only be executed by highly experienced artists. And, in our studio, they are.

It's well worth the effort to give you something handsome and timeless.

Not only do the Nolans sport stunning detailing over the entire boot, the Blake stitched rubber sole gives great grippiness. The substantial sole will last a long time, and can be replaced by a cobbler if needed.

The Nolans are a great example of form and function working together. They pair well with suits, chinos and cool jeans. And, you will look great wearing them.

→ Click here to get a pair of Nolan Brogue Boots for the reduced price of $179 .

Act quickly before the timer below stops. Be sure to apply VIP code NOLAN at checkout for the discount.