Making a note of the Caseology Tempered Glass Screen Protector for my Pixel 3 here. It has been merely acceptable. It certainly can't be the best Pixel 3 screen protector out there.
The screen protector took about 10 days to arrive. I ordered it around Black Friday and the Pixel was still very new. I wish shipping was faster, but I understand the delay.
Caseology ships two screen protectors in each package. One of mine was warped and obviously unusable. I am curious if a high defect rate is why they ship two of them? The other had a small blemish in the top, right corner. Not ideal, but it is in an area just off the screen and isn't visible unless you're looking for it.
The Caseology screen protector does not go all the way to the edge of the Pixel 3. My understanding is that no screen protector will go to the edge. The phone's screen curves pretty sharply towards the edges. It is much more difficult—and expensive—to create a rounded screen protector, so most don't. The Caseology screen protector is no different.
It does ship with a guide to help you apply the screen protector. I didn't have any issues putting the useable protector on my phone. I did like how the guide snaps into place.
Would I buy the Caseology Screen protector again?
Maybe.
The warped protector I received does make me cautious. I'm sure they would replace any defects—I could have sent mine back. However, I felt it was more of a risk to start using my Pixel without a screen protector though.
If the Caseology screen protector breaks or becomes discolored, I'll definitely do some research again. It's fine for the price, but there have to be better screen protector options out there.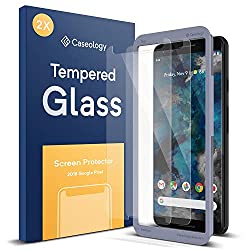 A tempered glass protector with an application guide
A tempered glass screen protector that come with a guide. They are easy to apply and come 2-packs. My experience is that at least one of them will be warped. Expect the screen protector to last about 6 months with normal wear.
Long-term notes
For most products I will keep running notes of my experience with them. Sometimes things break, wear out or I have an interesting experience with them. As those happen, I try to keep these posts updated.
November 29, 2018 - Screen protector arrives
December 10, 2018 - First drop
I went to grab the phone off my night stand and had a bit of a scare when I knocked it off. I have concrete floors and the phone fell flat. Screen down.
Luckily there was no damage. I am not sure if this was because of the screen durability, screen protector or the fabric case.
May 4, 2019 - Cracked Protector
Forgot to post this update. Someone at a bar bumped into my and knocked my phone out of my hand. It hit the ground and my screen protector had a small crack across the middle.
Phone was fine.
I think this product is both strong enough and a good enough value to purchase it again.
May 12, 2019 - Decided to repurchase
Repurchased the same exact screen protector. This time both tempered glass protectors appear to be fine. No defects. No issues removing or reinstalling the protector.
September 24, 2019 - Cracks around the edges
The edges of the screen protector have been chipped over time. It's started to become a bit of a nuisance when swiping the Android menu bar down. No big cracks or damage to the screen though.
October 9, 2019 - Another defective protector, purchasing a different brand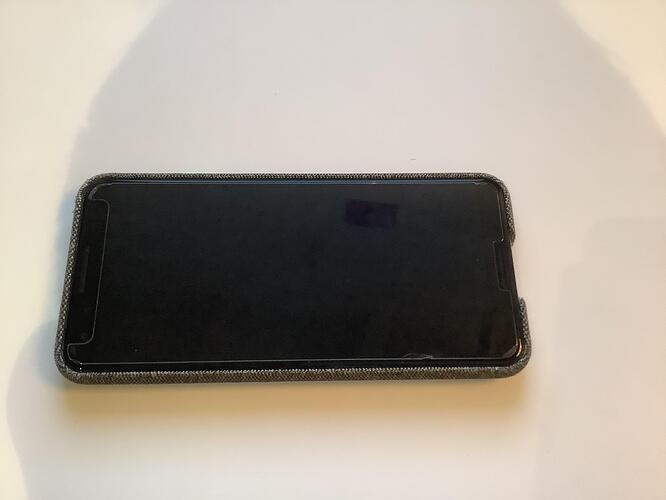 As you can see a new crack appeared on the left side of the screen protector. Also the top right has started to chip off tiny pieces. I didn't want to end up with a peice of glass in my finger swiping down the menu bar so I decided to replace it with the second Caseology protector. Unfortunately, it appears that there are two warped sections of the protector.
It will do for now, but I'm going to try a different brand. I've just ordered the amFilm screen protector. It has a better Fakespot rating, is a little cheaper and comes with 3 screen protectors. I am hoping to have better luck with those.