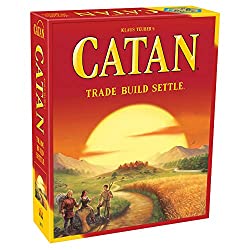 Any easy to learn game with huge replayability
Manage resources to build settlements, roads and cities. Catan is an award winning board game that is easy to learn and difficult to master.
Deal Details
Enter deal details such as coupons or promo codes. Include specific steps if applicable.
Both Walmart and Amazon currently have Catan on Sale.
Product or Deal Comments
Comments about what makes this product or deal notable.
Players manage resources to build settlements, roads, cities and knights. The board is reconfigurable with hex tiles and values. This allows every game to be different.

Board Game Geek puts rates Catan 2.31/5 on complexity.

Games take 60-120 minutes. The game works for 3-4 players (5-6 with the extension).