Unfortunately, VIZIO is no longer offering a free remote upgrade for Smartcast TV owners. However, the VIZIO XRT136 remote can be found on Amazon at a good price.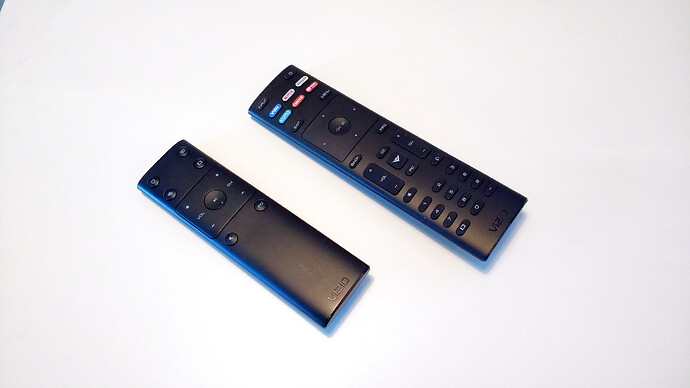 Dumb displays with smart tablet remotes has been Vizio's strategy for the last couple of years. If you bought a Vizio in 2016 it probably shipped with an Android tablet with SmartCast and a simple remote.
That will be the case no longer. Vizio appears to be ending it's experiment in creating a smart TV without apps. The 2017 lineup, will not include a tablet. Furthermore, if you bought a P or M-Series in the last year Vizio will send you a free replacement remote.
This remote along with the updated SmartCast software turns Vizio's into a more traditional smart TV. There are apps for Netflix, Hulu, Spotify and most importantly—Amazon Prime TV—which was missing from the previous SmartCast experience. The Verge does a good job explaining the change.
Vizio still isn't taking a traditional approach when it comes to smart TV apps, though. SmartCast isn't running a custom-made app for a closed system that will never see a software update. Instead, Vizio's "apps" are cloud-based HTML5 interfaces — basically, web apps — that can be updated without having to install new firmware on your TV.
Don't worry, you are still free to cast to the TV just like before. The option for built-in apps and a new remote are just a bonus for Vizio owners.
How to get your free Vizio remote
You've got a couple options for claiming your free XRT136 remote. The easiest is to check for updates using the Vizio SmartCast app. You should be given a 4 digit code, which can be redeemed on Vizio's website.
If you're having issues, you might want to recheck the SmartCast app. The code will expire after 15 minutes and you'll need to get a new one. Alternatively, you may enter the serial number on the back of your TV using the same link above.
Was there a problem with Smartcast?
I purchased a P-Series TV last year (Also see my 2016 Vizio P-Series Review). The combination of the little remote and SmartCast app have great for my needs.
I frequently use the remote to turn on the TV and adjust volume. I rather liked that the remote only covered a few actions. So many remotes have 1,000 buttons, which nobody knows how to use. Plus, because there are fewer buttons allow the size of them tends to be larger.
For simple tasks like adjusting volume or turning on the TV, it's perfect. Often it's just easier than unlocking my phone and opening the SmartCast app.
I also think that the SmartCast software has improved significantly in the year since I bought the TV. I'm incredibly skeptical of the software that most hardware companies write. The Vizio's software has exceeded my expectations.
However, there was one glaring problem with SmartCast—a lack of Prime TV. Now this is more to do with disagreements between Google and Amazon than the hardware itself. In either case, I'm not a regular Netflix subscriber and generally turn to Prime TV when I want to watch a movie.
Closing thoughts
I'm still a big fan of Vizio's products. Although their dumb TV experiment didn't work out, I can't see a way it could have been handled better.