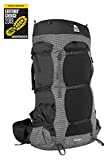 A top-rated men's backpacking backpack
The Granite Gear Blaze is Outdoor Gear Lab's top pick for best backpacking backpack. It's light-weight, comfortable and has the perfect pocket arrangement.

A top-rated women's backpacking backpack
The women's version of the Granite Gear Blaze. Like the men's version this is light, comfortable and capable of carrying heavy loads. It's perfect for your next trip.
Deal Details
Enter deal details such as coupons or promo codes. Include specific steps if applicable.
Both Backcountry and Amazon have the best price we've seen on the Granite Gear 60L Blaze Backpack. Applies to both the black and pottery clay model of this backpack.
Discount does not apply to men's long model
Backcountry does not allow coupon stacking with this deal
Product Comments
Comments about what makes this product notable.
Granite Gear Blaze are recognized as one of the best backpacking backpacks you can buy. They are light, comfortable and have an excellent pocket arrangement.