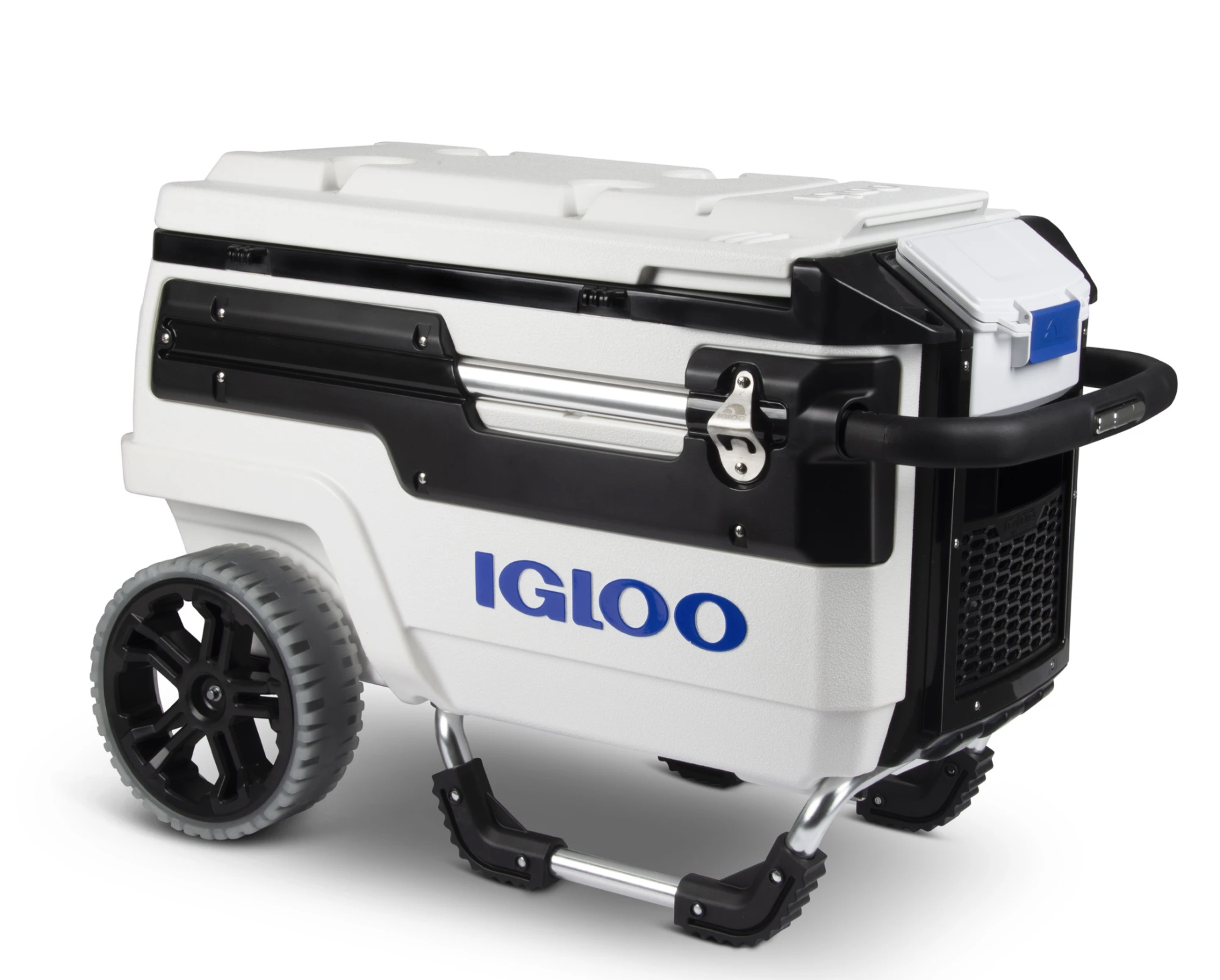 A coworker was telling me about this badass beach cooler he purchased and got to use this past weekend—the Igloo Trailmate Marine Cooler. I was interested since I just purchased an RTIC cooler while it was on sale.
Apparently, this thing handled the beach like a champ. It has bottle openers, a tray for making drinks, dry storage and a ton of other stuff. The big wheels make it easy to pull through the sand. Oh, and it has a 70 quart, 112 beer capacity.
It does take up a lot of room, but if you're car camping or making a beach trip, this could be a good option.
For those that want a cooler that looks like a tank
The Elite 75t is the successor to the Elite 65t, which were considered the best wireless earbuds by The Wirecutter and others. The Elite 75t is almost identical to the 65t, but it is lighter has longer battery life and is charged via USB-C—if that's important to you.
Just going to copy the feature specs here, because they are awesome:
Oversized Wheels - Tackle sand and other challenging terrain with the superior traction and ground clearance of 10-inch, never-flat, non-marking wheels.
Anti-Skid - Non-marking tread won't leave scuff marks and is ideal for boat decks.
Butler Tray - Serve up drinks and snacks away from sand and dirt on our removable butler tray, which stores easily under the cooler's lid when not in use.
Bottle Openers - Dual built-in bottle openers at your fingertips makes it easy to enjoy your refreshments.
Food Basket - Suspended interior food basket keeps food items cold yet dry.
Accessory Holders - Removable accessory holders to transport and add additional support for beach umbrellas or fishing rods.
Cup Holders - Keep your cold ones secure and always in arm's reach.
Stainless Steel Parts - Enjoy durability down to the details with premium, stainless-steel, rust-resistant screws.
Aluminum Construction - Trust in the lightweight, rust-resistant strength of marine-grade aluminum parts for the handle and skid rails.
Dry Storage - From public beaches to secret swimming holes, keep essentials like mobile phones, keys and sunglasses handy and dry inside our water-resistant, lockable box with an anti-leak gasket.
Storage Pocket - Stash your shades, sunscreen and other essentials easily and securely.
Drain Plug - Threaded drain plug is garden hose compatible and features a non-slip, easy-grip tethered cap.
Cool Riser Technology™ - Improves cooling performance by elevating cooler from hot surfaces.
Ultratherm - Fully insulated for advanced cooling performance.
Ice Retention - Insulated body and lid provide up to 4-day ice retention performance (under controlled test conditions).