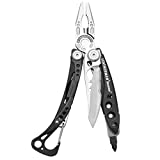 A great lightweight multi-tool for camping
This is an excellent, lightweight multi-tool that is perfect to bring camping or backpacking. It includes needle-nose pliers, regular pliers, wire cutters, bottle opener, Phillips screwdriver, and flat screwdriver.
Deal Details
Enter deal details such as coupons or promo codes. Include specific steps if applicable.
Amazon has the best deal we've seen on the Leatherman Skeletool.
If you want the same features, but better blade quality the Skeletool CX is also on sale. The discount is not as great though.
Product Comments
Comments about what makes this product notable.
This was The Wirecutter's runner-up choice for best multi-tool (The Skeletool CX was the top choice). I own the similar CX model Its quality and light weight make it a perfect pocket knife replacement for our camping trips—as noted in our Car Camping Essentials Checklist.
It doesn't have 80 functions like other tools in the Leatherman lineup. But it has the most important ones and they are executed well. At this price the base model is absolutely worth getting.