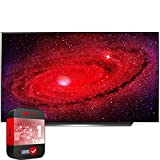 The best deal on the largest OLED we've seen
This enormous, 77-inch OLED TV from LG is in a class of televisions that generally cost more than $5,000. This is an amazing purchase for anyone looking to build their own home theater.
Deal Details
Enter deal details such as coupons or promo codes. Include specific steps if applicable.
Both Amazon and BuyDig have an unbelievable deal on this 77-inch OLED television. LG is among the top screen manufacturers in the world (They produced Apple's retina displays for years). Televisions in this class are usually geared towards people building home theaters. They often cost north of $5,000.
Product Comments
Comments about what makes this product notable.
Currently, organic light-emitting diodes, OLEDs, are considered the leading screen technology. OLED screens produce much blacker blacks, wider color ranges and tend to use less energy than LEDs. They currently are in production for the highest-end of the television market.