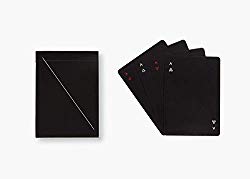 An attractive, minimalist set of cards
A rare deal on the beautiful MINIM Playing Cards by Areaware. The black version of this card deck rarely goes on sale (and often retails for almost twice the white deck). This is about as low as I've seen the deck.
If you're a minimalist and have considered picking up a new deck of cards. This is for you.
FWIW, I just bought this deck and will post some photos in #finds when I get it.