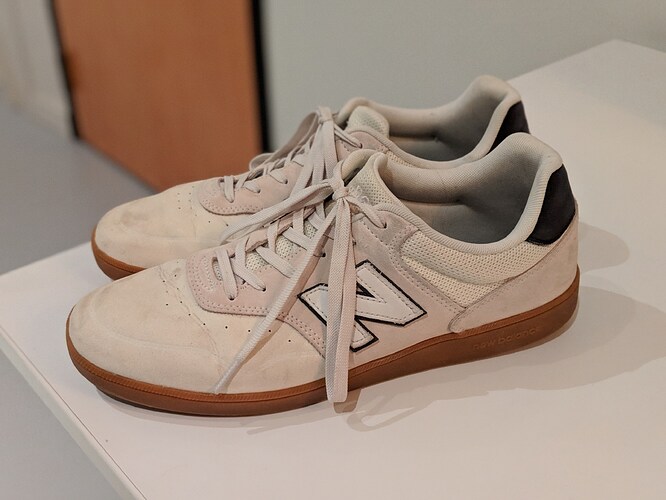 Several months ago I saw the New Balance Numeric 288 go on sale for about $50. I was hoping that they would become a staple I'd want to wear regularly. Two-tone suede, cream color, gum sole, navy accent—what's not to like?
The shoe is almost a staple. Unfortunately, the shoe has narrow fit and is difficult to keep clean.
https://www.newbalance.com/pd/numeric-288/NM288-SM.html
Long-term notes
April 4, 2018 - Ordered Shoes
December 13, 2018 - Review Published
February 2, 2018 - Washed Shoes I'm always concerned about throwing shoes into the wash, but it appears that the 288's wash easily. The shoes came out looking like new!
Design
Aesthetically, the shoe is beautiful. It has a two-tone color scheme and a ton of different textures. The top of the heel is navy as is the outline of the New Balance N. It also has a gum sole and gives it a look to the famous Nike Killshot.
When I saw this I figured the cream-color would match incredibly well with the rest of my wardrobe. It's simple, unsuspecting and fits well with about anything you could wear.
I do feel like the toe is missing something. The killshots have a small bit of suede that creeps up from the sole just around the front of the shoe. Something like that could have made this design a home run.
Quality
The material and build of the shoes are solid. There's no sign of stitching tearing, the sole coming apart or laces tearing. For the price, they are much more impressive than I originally thought.
Perhaps, the durability is because the 288 is designed as a skater shoe? In either case I am impressed.
The laces, in particular seem a lot better quality than ships with most shoes. They almost have a slight elasticity to them. When you stretch them they kind of bounce back into place.
The gum soles are not stitched on. However, there is no separation anywhere on the shoes.
Creases on the toe are the only quality issue I have with the shoe. I know that they happen naturally, but they seem incredibly noticeable here. Perhaps, because it is collecting dirt.
Wear
With white (or off-white) sneakers, keeping them clean is an ongoing task.
With other white shoes it is easy to damp a paper towel and wipe down and dust that gets on the shoe. Because of the mostly suede build, that makes this a lot more difficult. Pictured above is a shoe that has been worn once or twice a week since April 2018. It's obvious that they're dirty and it's difficult to clean them.
I'm probably going to throw them in the wash with my next load of towels. We'll see how they come out.
Fit
The main issue I take with these shoes is the fit. I wear an 11.5 in New Balance and that size has fitted me perfectly for over a decade.
The Numeric 288 is the first pair of New Balance shoes that don't quite fit. The length is right, but they are narrower than other shoes they offer. I think this could be caused by the elastic straps on the inside of the shoe that holds the tongue in place, but am not entirely sure.
It's fine for most situations, but if there are days I'm going to be walking for more than 30 minutes straight, I tend to avoid these shoes.
Conclusion
The Numeric 288 is a solid, everyday shoe that I think most people would enjoy. Due to the creases on the toe and the difficult keeping it clean, I'd be interested in how the gray and black models hold up.
If you have a wide foot like me, I would be cautious with this purchase. If you can find it on sale, it's an excellent value shoe that has the durability to hold up over time.