Who doesn't like a getting packages in the mail? What about presents? That's part of the reason so many are obsessed with FabFitFun boxes. FabFitFun is a subscription service that delivers boxes of make-up, wellness, lifestyle, fitness, home, clothing and fashion items each season.

While part of the appeal is getting something fun in the mail, the other part is getting a good deal. Each box comes with $200 to $400 worth of stuff and only costs between $45 and $50. That depends on if you choose a seasonal or annual membership and doesn't include discounts.
---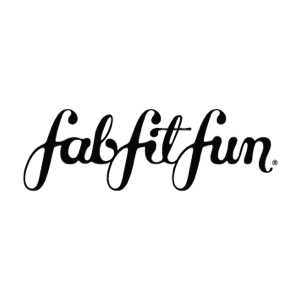 A seasonal subscription box
Each FabFitFun box contains over $200 in wellness, lifestyle, fitness, home and fashion items. It is perfect for those who like surprise packages and trying new brands.
How it works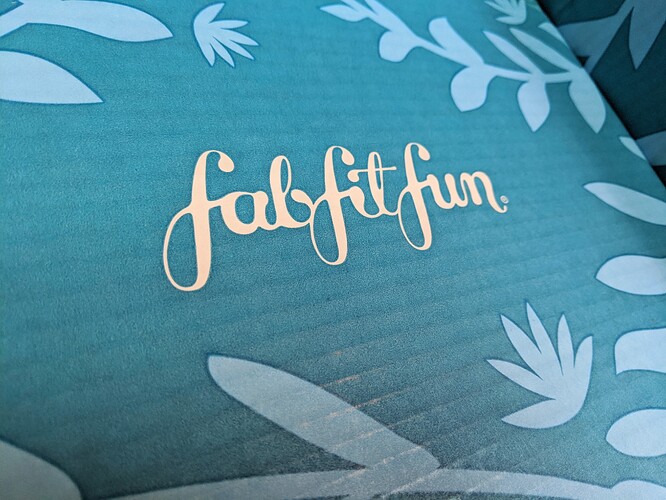 When you sign up, FabFitFun will prompt you to take a personal style survey. This survey asks for product, fitness, beauty and style preferences. It will also ask you things like t-shirt and shoe sizes to get measurements.
Other than your measurements, I don't think these make much of a difference in your first box. However, it probably helps the FabFitFun team plan for future boxes and avoid sending you stuff you don't want or already have.
Once you take the quiz, you'll have to choose between two membership options.
Seasonal memberships cost $49.99 (about $200 for the year) and are charged quarterly when each box ships. The subscription automatically renews unless you decide to cancel.
Select (annual) memberships cost $179.99 upfront for the entire year (or $44.99 per box). There are some additional perks for being a select member. You'll get to pick 5 items (as opposed to 3) for each box and you'll have early access to select those items (before they run out). Select members also have their boxes ship first.
Once you've selected a membership, you can customize your box. The way it work is FabFitFun offers 3 to 5 collections to pick from. Each collection contains 6 to 8 items and you can choose one of each.
Once you've made your selection the remaining items are up to FabFitFun. There's not much else to do but wait for your box to arrive.
Are FabFitFun boxes worth it?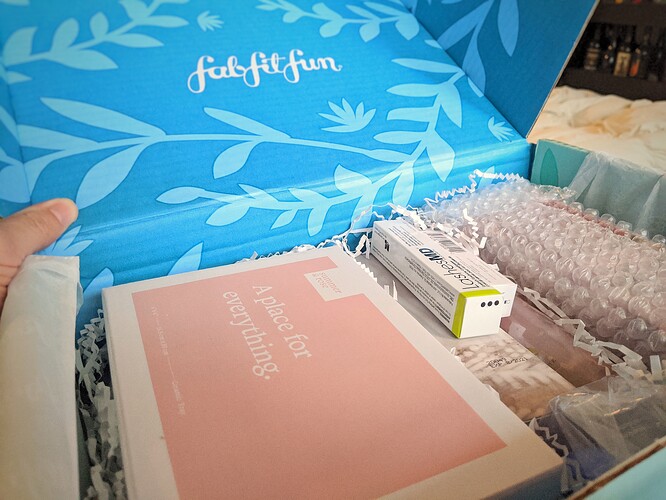 One goal of this topic is to determine whether FabFitFun boxes are worth the price. We've posted items from past boxes we've received in the section below. There are also links to places you can find those items elsewhere. That way you can decide on your own (or pick up an item you missed in your box).
The claim is that you'll save 10 to 60 percent of of retail prices depending on what items you select. We think that is probably true. Of course the catch is that all of these items aren't things you would have purchased on their own.
As a whole we're impressed with the quality of the items FabFitFun ships. We've only received full-sized items, not a box full of samples.
So, are FabFitFun boxes worth it?
If you like getting packages and want to discover some new brands, we think they absolutely are worth the price.
Past FabFitFun boxes
As promised, here are some of the products we've received in past boxes. We were skeptical if the products retail price were what FabFitFun claimed. However, in most cases the retail products were close to the same as listed. If they were cheaper elsewhere, it was only by a couple dollars.
Below you'll find a short review of boxes we've received from past seasons. Each review contains photos a short description, a list of the products we've received and their retail prices. If you're interested in comparing the products and purchasing them elsewhere, we've also added links.
There are some FabFitFun spoilers below. If you like your boxes being a surprise, don't read any further!
Summer 2020 ($346 Value)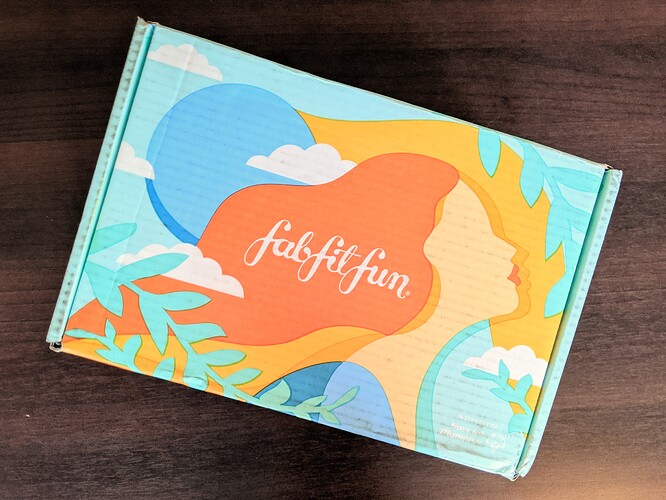 We just received our Summer 2020 FabFitFun box, and we think it topped the fantastic spring box. Even though we have a Seasonal membership, we received several of the Select membership items.
The after-sun beach mist arrived just in time as our pool opened July 1. I love the design and label for the Business & Pleasure cooler bag. It makes a great lunchbox and replaces one that was beginning to fall apart. It's also big enough to pack snacks for a weekend picnic.
When looking up values for our products we found the eyelash conditioner was significantly cheaper on Amazon. Here's everything we received.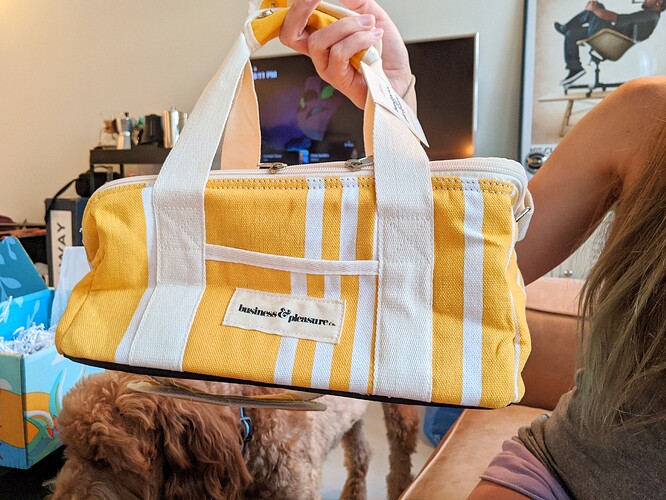 The Business & Pleasures cooler bag—perhaps our favorite item in this box. There's a lot of room for snacks!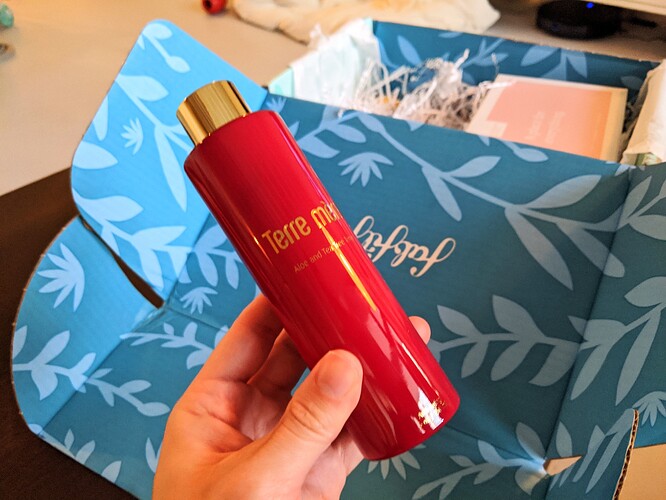 One of the pricier items on the list was this bottle of Terre Mere toner. I feel like this is a giant bottle, right?
Anyways, the packaging and materials feel quite fancy.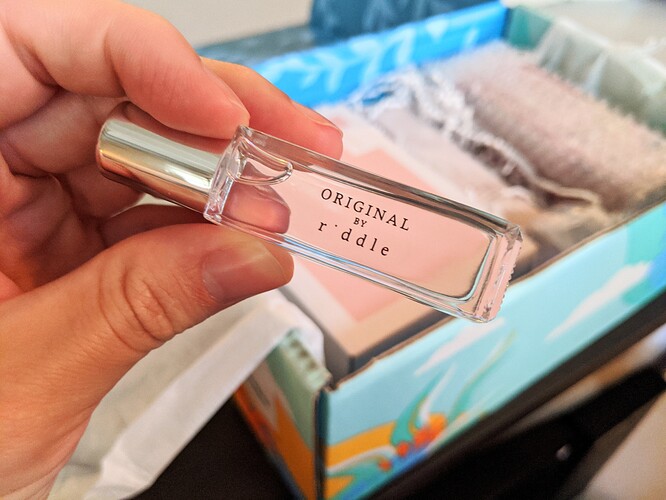 This was an interesting item. Riddle's original roll-on fragrance oil. Apparently, it is formulated to mix with your personal chemistry and create a unique scent. Isn't that how all fragrances work?
Either way it smells nice.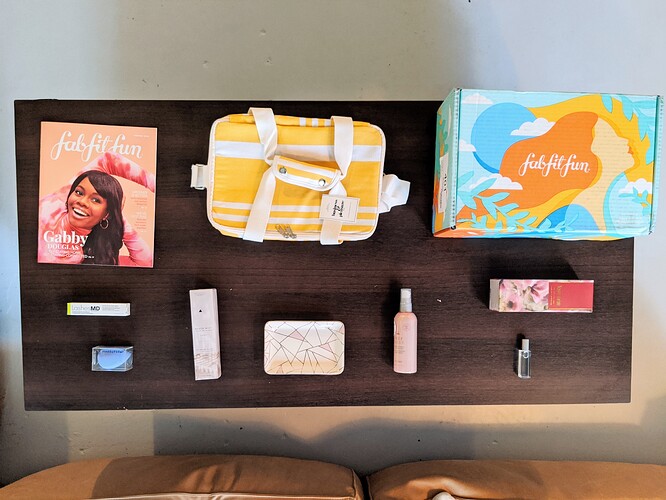 What else was in this box? We got a jewelry tray that you can see in the picture above. It has a cool geometric design. We also got a bottle of Drybar detangler. Haven't tried that yet, but it looks promising.
All-in-all we're fans of the the Summer 2020 FabFitFun box. I don't think this box had any duds like the sleep mask from the Spring box.
Spring 2020 ($353 Value)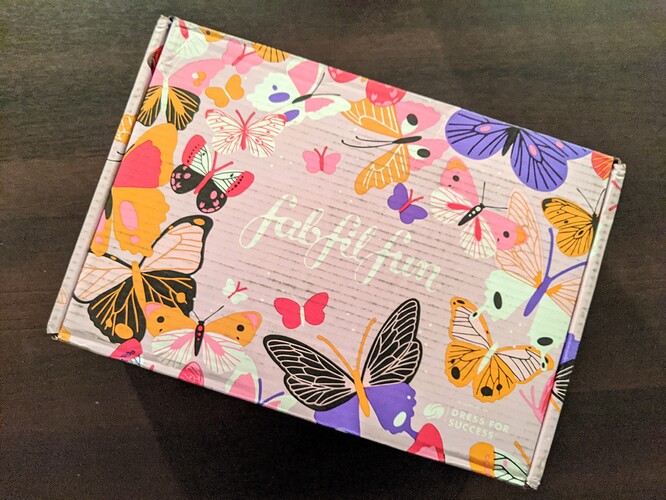 The Spring 2020 FabFitFun box was the first box we received. It contained a lot of things we loved—some lotions, a fun rainbow-colored lip balm and a new brush to replace one that was starting to lose bristles.
Here's the complete list of what we received (along with links in case you missed the box and wanted to make a purchase).
| Product | Retail Price | Available at |
| --- | --- | --- |
| DONNI. Rib Sweater Coat | $99 | DONNI |
| Murad Rapid Collagen Infusion | $78 | Murad |
| Gravity Weighted Sleep Mask | $40 | Gravity Blankets |
| Aria Beauty Luxe Detangling Electroplated Brush | $35 | Aria Beauty |
| this works Deep Sleep Body Cocoon | $40 | Ulta |
| Chic & Tonic Silicone Straws | $15 | Chic & Tonic |
| Winky Lux Rainbow Lip Balm | $18 | Winky Lux |
| Lovescript Body Wash | $28 | Lovescript |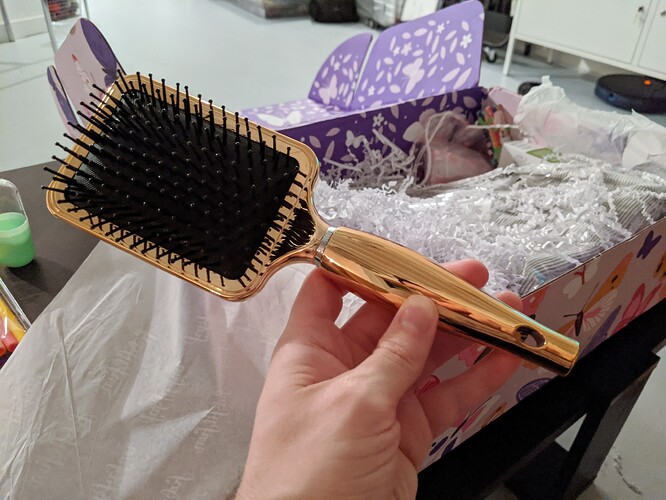 The Aria Beauty brush came at a convenient time. It wasn't an option we were able to choose, but it did replace a brush that was dying one bristle at a time. All-in-all we loved this box.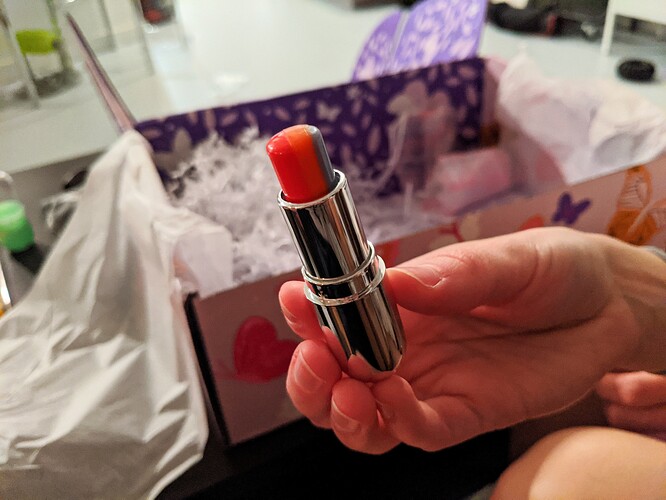 This rainbow lip balm was another pleasant surprise.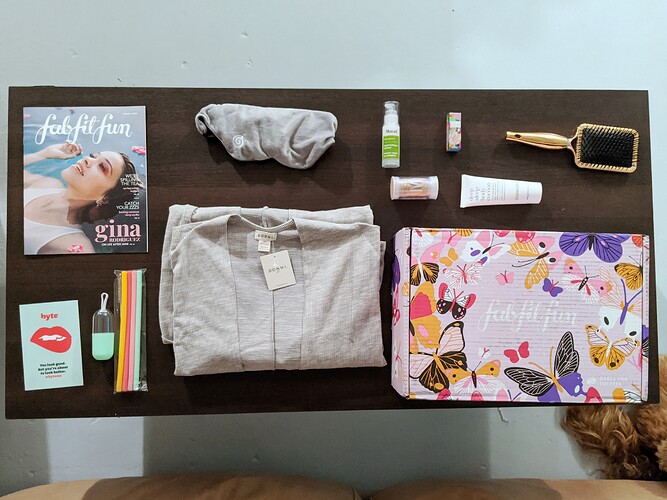 Other than the brush and the lip balm there were other things we loved. The rib sweater is soft and the perfect thing for a lazy Sunday. I wasn't sure that I needed reusable straws, but since they arrived it as been among the our favorite items.
Not everything has been great though. The idea of a weighted sleep mask (from the company that invented weighted blankets) seems fantastic. The reality is that unless you're completely still at night the mask will come off—especially if you're a side sleeper.
Closing Thoughts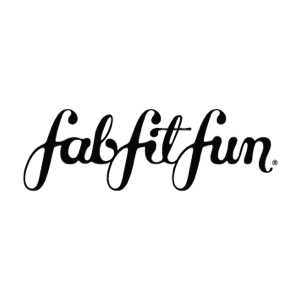 A seasonal subscription box
Each FabFitFun box contains over $200 in wellness, lifestyle, fitness, home and fashion items. It is perfect for those who like surprise packages and trying new brands.
---
References