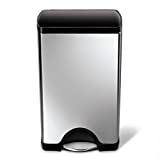 Stainless Steel Trashcan from Simplehuman
Nobody puts more thoughtful design into trashcans than Simplehuman. This 38L trashcan is perfect for kitchens and has an airtight seal.
Deal Details
Enter deal details such as coupons or promo codes. Include specific steps if applicable.
Great deal currently being offered through Simplehuman's website. No coupon or promo codes are required.
Product or Deal Comments
Comments about what makes this product or deal notable.
Rectangular shape. Made of stainless steel and Simplehuman's Shox dent-proof plastic. Includes silent close technology and can be fitted for dual trash/recycling compartments.
Includes a 5-year warranty.