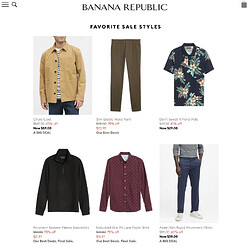 Banana Republic Memorial Day Sale
Looking for a few new shirts or some summer shorts? Banana Republic has some quality items at great prices. This sale makes those purchases even more of a steal.
Deal Details
Enter deal details such as coupons or promo codes. Include specific steps if applicable.
Banana Republic is having their Memorial Day sale. Many items are available for up to 75% off.
Stacks with their Newsletter signup promo code
Sale ends 5/25/2020
Product Comments
Comments about what makes this product notable.
There are a some great deals at Banana Republic. Some things I have my eye on: