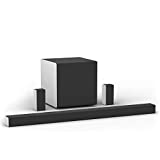 VIZIO SB46514-F6
The Wirecutter's reviewed the SB46514-F6 and gave it the top spot in their guide to the best sound bar. Notably saying that it provided the most immersive audio expeience for under $1,000.
Deal Details
Enter deal info, such as coupons/rebates. Include specific steps if applicable.
Both Amazon and Best Buy are offering excellent price on VIZIO's higher end Dobly Atmos sound systems. If you don't have the desire or need for a 5.1 system, the excellent 46-inch 3.1 system is also on sale.
Product or Deal Comments
While I currently own an older version of this system, VIZIO tends to deliver exceptional audio experiences. This model comes with a variety of features, including built-in Bluetooth and Chromecast for music streaming.
If you're in the market for a new sound bar or home theater audio. This is deal absolutely worth taking a look at.