This guide to help you find the best toilet for your needs is a work in progress. My goal is to provide a starting point for anyone looking to make this purchase. Hopefully, my knowledge can help others get a head start.
I recently purchased an old condo. It was an old office building from the 1950s that was converted into lofts about 25 years ago. I loved the location and saw that the place had a ton of potential. But like all places like that, it needed a bunch of work.
One of the things on my list to replace was the toilet. The one in the places was small, weak and inefficient. The first few times I had people to see the place multiple friends clogged the toilet—not a great impression.
Who is this guide for?
This is a guide for people that have just started their research on toilets. I am not a professional, but just some dude on the internet who has spent an unreasonable amount of time learning everything I can before making a purchase.
If you don't know much more than that you need to replace your toilet, I'd encourage you to keep reading.
What's important when buying a toilet?
Flushing power
Power, power power. When I started my search for a new toilet, flush power was the absolute top consideration. I wanted something that would be able to flush a bowling ball. Considering that a toilets primary job is to flush waste, I suggest this be your top consideration as well.
Before making any purchase, I'd recommend checking out the MaP Flush Score. You really don't want to leave anything to chance here. Nothing with less than 600g of power should be considered.
Water-saving efficiency
Water-savings may be another important part of deciding what toilet to purchase. Today you'll find 3 different flush volumes available 1.6 GPF (gallons per flush), 1.28 GPF and 1.0 GPF. For dual-flush toilets—which I'll talk about later—you'll find a 0.8 GPF as well.
In 1992 President Bush signed the Energy Policy Act, which made 1.6 gallons per flush a mandatory federal maximum for new toilets. Almost every toilet purchased after that date should use 1.6 gallons of water or less.
If you're was installed before 1992, then you could potentially save a ton of money with a new toilet. Anything after that will have diminishing returns on the amount saved.
Size and measurements
Rough-in is the distance from the rear wall—not any siding or trim—to the bolts that connect the toilet to the floor. This is the absolute most important measurement you'll take. This Kohler manual shows the rough in measurement.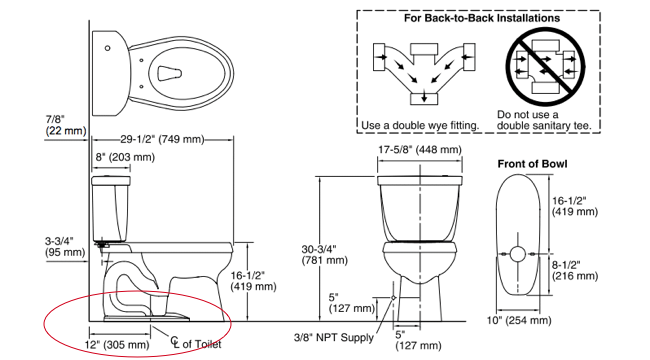 Most modern houses and apartments will have a 12-inch rough-in. However, if you're like me and have an older place, you may find a 14-inch or 10-inch rough-in. Be aware, it may be more expensive to find good toilets with those measurements.
Bowl Height is exactly what it sounds like. It measures the distance from the floor to the top of the bowl. This does not include the cover seat. Today you'll mostly find the ADA (Americans with Disabilities Act) heights of 16-to-18-inches.
Width and length are only a concern in tight spaces. In either case I would recommend measuring the space you have before making a purchase.
Distance to water supply is the measurement from the middle of the toilet to the water intake. While there is some flexibility here, most toilets will come with a specific range. Using the same graphic above I've circled the water supply measurement, which shows the toilet should be at least 5-inches from the intake.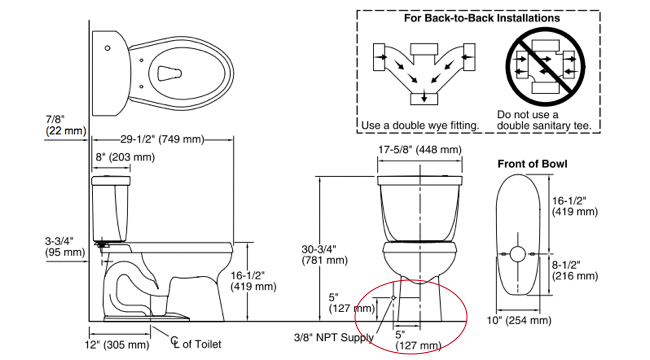 Additional features and considerations
Single vs dual-flush is a common question. Single flush mechanisms have a single handle, while dual-flush mechanisms often have two buttons—a water saving flush and a full-flush.
Almost all of my research has favored single-flush toilets. The prime reason is reliability and ease of repair. Single-flush toilets are much simpler devices and thus less prone to the problems of dual flush. If you're looking at 1.0 or 1.28 GPF toilet, there's probably little advantage to a dual-flush system.
Elongated bowls vs standard bowls. Elongated bowls are preferable in almost all cases, but very small bathrooms. Elongated bowls simply provide more room. This is mostly a male problem, but if you've ever been in a bathroom where you have to maneuver your parts when taking a dump you're probably on a standard bowl.
One-piece vs two-piece toilets are exactly what they sound like. Two-piece toilets have a separated base and bowl that are bolted together when it is being assembled, while one piece toilets are a single piece of porcelain.
The advantage of one-piece toilets are that they are easy to clean and, personally, I prefer the aesthetics. With that said they are expensive, and I doubt they are worth the increased cost.
Gravity-fed vs pressure-assisted toilets. Pressure-assisted toilets are the kind you see at bars that allow people to flush solo cups down the toilet. Unfortunately, few residences contain the 25 pounds per square inch of water pressure required for them. I do think for most people modern gravity-fed toilets should suffice.
Comparing toilets
TOTO Entrada: The best toilet with a 12-inch rough-in
The TOTO Entrada is an affordable toilet that uses the same mechanisms as the Eco Drake. In MaP tests the Entrada logged 1,000g flush power, which puts it among the most powerful toilets.
What makes the Entrada stand out is a combination of power, efficiency and cost. At around $180 this is probably the best value toilet available.
TOTO Eco Drake: An internet favorite with a 10-inch rough-in
The TOTO Eco Drake is among the most highly recommended in reddit threads, plumbing forums and in online reviews. The main difference between the Entrada is that the tank size is slightly larger. Like the Entrada, MaP testing puts the Eco Drake at about a 1,000g flush.
The Eco Drake is available for 10 and 12-inch rough-ins. If you prefer the look or have a 10-inch rough-in this is an excellent bet. Also, at around $200-$250, you're getting the power of toilets twice it's price.
TOTO Drake II: New design, better finish with a bigger price tag
The TOTO Drake II is the newer model of the Drake. It comes in both 1.28 GPF and 1.0 GPF variants. Other than a lower GPF model the Drake II features Tornado Flush, which removes several of the small holes and replaces them with two large holes that begin the flush. This leaves less places for mildew to build up. There is also a CeFiONtect (formerly Sanagloss) coating, which prevents grime and other particles from sticking to the toilet.
The Drake II costs about $400 with a few nice to have features and similar performance. Unless the CeFiONtect coating is a big deal, the Eco Drake may be a more cost-effective option.
TOTO Vespin II: The best toilet for a 14-inch rough-in
I'm replacing the old toilet with a 14-inch rough-in with the Vespin II. This toilet is basically the Drake II with a slight difference. It has both Tornado Flush and the CeFiONtect coating. You'll notice the one small difference—the bottom of the toilet is skirted.
This allows for TOTO's Unifit adapter, which allows the rough-in to change to either a 10 or 14-inch rough-in. From my research TOTO is the only manufacturer that has an adjustable system like this.
Unfortunately, that flexibility comes at a price. The combination of the toilet and 14-inch Unifit adapter put the toilet in the $500-$600 price range. I suppose that is just a risk of purchasing an old house or condo though.
Other common questions
Can I use a smaller rough-in than the space provides?
Consider you have a 14-inch rough in, but really want a toilet with a 12-inch rough in. You can install it, but the tank will be 2 inches off of the wall. I think the best solution here is installing a TOTO toilet with a unifit adapter like the Vespin II. See this Terry Love thread about how the adapter also provides more leg room.
Are rebates available for WaterSense labeled toilets?
It varies from county to county, but if you are planning on purchasing a 1.0 GPF or 1.28 GPF you may be eligible for up to a couple hundred bucks in rebates. For example Fulton County Public Works will provide up to a $100 rebate on any WaterSense toilets. Usually it involves filling out a form and allowing an inspector to make sure the toilet was installed.
Further reading
The MaP Search Tool shows power scores for a huge variety of toilets. My suggestion is to start here for power and then compare prices.
The Terry Love Forum is a treasure trove of friendly industry professionals and valuable advice. I found myself several threads deep finding questions I never knew that I had.
r/homeimprovement has no shortage of opinions about toilets and home improvement projects of all shapes and sizes.
Notes and Sources
Specification examples from the Kohler Cimarron
Toilet images from TOTO and American Standard