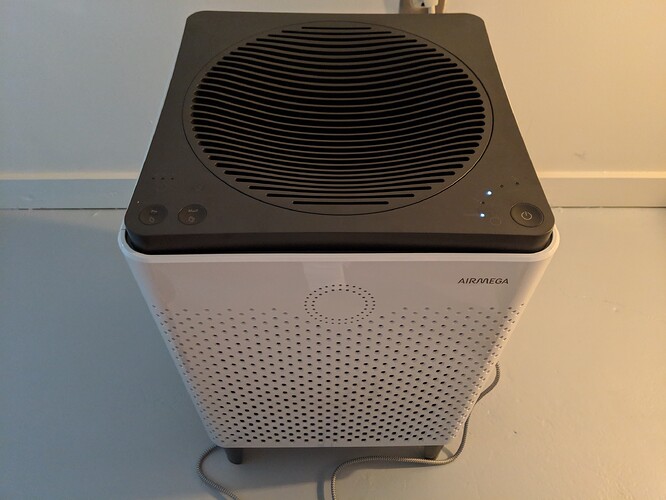 I'm afraid I have some unfortunate news about my highly recommended air purifier, Coway's Airmega 300. About a month ago I noticed that the air quality sensor was no longer appearing. Additionally, the LED lights on the top of the Airmega were weak and flickering. In the picture above the pre-filter cleaning light is actually on, but the orange is barely noticeable.
I did a good amount of trouble shooting for this problem. This was a gradual process that was usually solved by powering off and then powering on the Airmega. Eventually that stopped working.
Initially I thought this could be the Belkin Surge Protector that the Airmega was connected to. However, other devices had power when connected to it. Plus this seemed to be a low-power issue. I'd expect there to be no power if it was a problem with the surge protector.
Anyways I've contacted Coway's support. I had to fill out a warranty registration and they sent me a FedEx shipping label to return the device. I did have to dish out $15 to purchase a box and packing materials from Fedex. Maybe that isn't too bad considering the size.
When the Airmega arrives, they'll send me a replacement. I'll keep this post updated—similar to the shipment issues with my Jarvis Desk.
Issue Update: March 26, 2019
It took about a week, but Coway has received the Airmega 300 I sent them.
They've said they're sending me a replacement and issued me a new tracking number. It ships from California and should be here by Friday. Wish it was faster, but seems reasonable considering the size of the package.
It should arrive just in time. It's about to be pollen season here in Atlanta.
Issue Update March 29, 2019
The new Airmega arrived a day earlier than expected—just in time for a record setting pollen count here in Atlanta.
For the time being I'm going to count the electrical issue as a fluke. Coway's customer service was efficient. Other than having to get a box to ship the Airmega, I didn't have to fight with them over a replacement.
Consider me a happy customer.
Issue Update April 5, 2019
My refrigerator appears to also be having power issues. I'm starting to think this problem might have been related to a power surge. It's possible that the surge protector did not adequately protect the device.