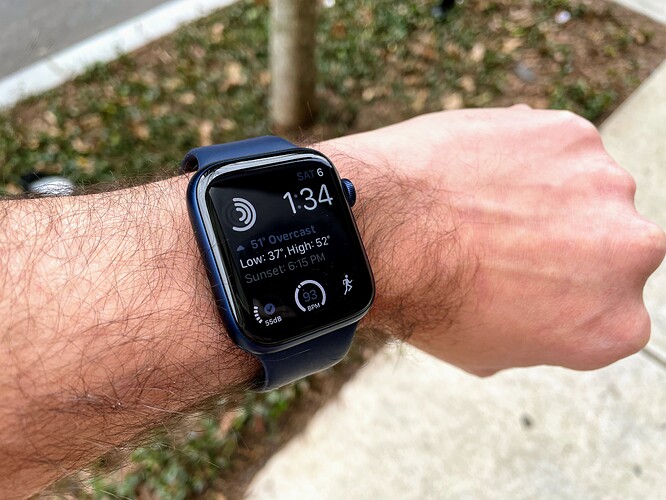 Honestly, the Apple Watch is not something I wanted. It certainly isn't something I would have bought myself. However, after spending a month with my
Apple Watch Series 6
—I love it. It has easily replaced my Fitbit and can't imagine not having one.
I received my Apple Watch Series 6 as a Christmas gift from my employer. Initially, I had planned to sell it. However, after some research I decided that I would try it for a month. If I liked it I'd keep the watch. If I didn't, I could always sell it.
Well, it's been a month—I think the Apple Watch is an amazing product. I've been wearing it almost every minute of the last month and plan to continue wearing it.
---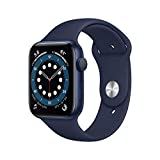 The best smartwatch
Easily the best smartwatch on the market. WatchOS is clever, modular and lightyears ahead of the competition The Series 6 includes an ECG and Blood Oxygen sensor.
Why trust me?
I've spent almost every minute the last month with my Apple Watch Series 6 (that includes night time). I've spent hours reading commentary, watching reviews and interviewing Apple Watch owners. This is a product I'll own for at least a few years, so I intend to update this review with long-term notes.
What do I know about Apple? I've been reviewing Apple products for years and have been an owner of Apple products for more than a decade. I've owned products across all of Apple's product lines, which include laptops, iMacs, iPads, iPhones and the Apple Watch.
Also know that this Apple Watch Series 6 review is not paid or sponsored. None of the reviews on Product Notes are. The items reviewed here are purchased for my own use or as part of a test—as I did in search of the best Nespresso machine. Product Notes is community-supported. When you buy through links on this site, we may earn affiliate commissions from the retailer.
What I like about the Apple Watch
WatchOS
Let's start with how WatchOS is organized. Like your phone you have apps that do various things. These apps mostly sit in the background. However, if you want information such as sunset/sunrise time or your heart rate you can add that information to your watch face. These enhancements are called complications and Apple provides a lot of ways to organize them. I think the design decisions Apple's made here are excellent.
This relationship between apps on the watch and the faces you create allow you to build faces that give the information you need at a glance. The ability to quickly swap between multiple faces means that in certain situations you might opt for one face over the other. There are already apps specific to tracking golf, tennis, workouts and runs—I suspect we'll see more activity-specific apps emerge in the next year or two. It makes a ton of sense.
Customizable watch faces
[Infograph Modular face img]
I've found a few Apple watch faces that work for me. Currently, I'm using Infograph Modular, Photos and Meridian.
My default most of the time is the Infograph Modular face you see above. It has my activity rings, and date and time at the top. In the middle I have Dark Sky, which shows current, high and low temperature. It also tells me the sunset or sunrise time. The bottom row of complications has Noise, Cardiogram and Workout. They tell me how loud the environment is, my heart rate and quick access to start a workout.
[Photos face img]
I struggled to find a minimal Apple Watch face that I could use when I didn't want any distractions. Eventually, I decided the Photos face had what I wanted. I just needed to figure out how to get rid of the photos. I took a picture with my iPhone against my coffee table to get a black image. Then I used that black image as my background. I think that's the best minimal watch face you're going to find.
[solar face img]
[Meridian face img]
Because of the pandemic, we're not spending that much time in social situations. However, when the next fancy occasion occurs, I'll break out my Meridian watch face. The only complication I've added shows the date. That's it.
Blood Oxygen and ECG
The Blood Oxygen and ECG monitors are the primary selling points for the Apple Watch Series 6 over the Apple Watch SE. If you're young, healthy or don't really care about health data, you'll be fine without these. However, I think many will appreciate having them.
The Blood Oxygen app tracks the percent of red blood cells that carry oxygen from your lungs to the rest of your body. In most healthy adults this is usually 95 percent or higher. This metric is pertinent with the pandemic. Consistently low blood oxygen levels are a major sign of a severe COVID-19 infection.
I like that the Blood Oxygen app runs in the background and while I sleep. It's nice to have that data without having to record it manually.
The ECG records your heartbeats using the electrical heart sensor built into the apple watch. It then checks the recording for atrial fibrillation, an irregular rhythm.
While I've never had issues taking an ECG, my girlfriend has had issues after runs. Apparently high heart rates can interfere with readings. Apple has since pushed updates that have improved readings under high heart rates. It's still not perfect though.
Easily silence alarms
Depending on how much of a morning person you are—silencing alarms from your watch could be dangerous.
It's been fantastic for me. My first alarm goes off at 6 a.m. and I'm usually up shortly after that. Just in case I oversleep I also have an alarm that goes off at 6:30 a.m. Previously, I'd be brushing my teeth and have to track down my phone to turn that alarm off. It sounds simple, but it's great to be able to silence it from your wrist.
Workout and activity rings
Until the Apple Watch most wearables were billed as fitness trackers. The Apple Watch still does that, although it's pretty basic. Apple has 3 primary metrics that it tracks: Move (calories), Exercise (minutes), Stand (hours). The watch interface displays these 3 items as rings completing the goals for each of these "closes" the rings.
The Workout app is basic, but easy to use. There are a handful of present options. Simply, tap one of them and it will start tracking metrics related to that workout. All workouts essentially track duration, active calories, total calories and heart rate. Workouts that are not stationary include elevation and distance as well as GPS mapping.
While I think the options provide enough tracking for most people. Those doing serious training may look to a third-party app for additional options.
Autosleep and Heartwatch
[Autosleep screens]
Heartwatch and Autosleep (also available in a bundle) are two exceptional health and sleep tracking apps that every watch owner should purchase. They make up for the deficient tracking the Apple Health and Sleep apps provide.
Best of all these apps are a one-time purchase. There is no subscription, there is no data that leaves your phone. It's just a different and more powerful way to visualize the information that your watch has already collected.
Timer while cooking
I've found the watch timer to be extremely useful when cooking. I think having a bunch of short timers set by default makes it easier than fiddling with my oven's timer.
It's missing a 20 minute default timer, I have a custom one set for 20 minutes, but feel like there are a lot of things that take 20 minutes to cook. Would love not to have to scroll to the bottom to get to that timer.
Checking environmental sound levels
The Noise app is something that feels incredibly useful. Am I listening to music too loud?
The application checks for prolonged exposure to loud noise and sends a warning notification when things are too loud. Here are the exposure limits before temporary hearing loss can occur.
80 decibel limit: 5 hours and 30 minutes a day
85 decibel limit: 1 hour and 45 minutes a day
90 decibel limit 30 minutes a day
95 decibel limit: 10 minutes a day
100 decibels: 3 minutes a day
I would have loved to have this when I was in India for my sister's wedding. Everywhere I went it was loud.
Haptic feedback from the Compass
I really don't ever need a compass, but I am kind of obsessed with the haptic feedback. You feel little ticks as you begin to orient yourself towards a bearing.
What needs improvement
Sleep charting is lacking
If you're switching to Apple Watch from a Withings or Fitbit watch, you're going to be disappointed in the sleep tracking. Both Withings and Fitbit track light versus deep sleep. Fitbits even track REM cycles.
The Apple Watch shows when you went to sleep, when you woke up, time in bed and time asleep. It's a lot less satisfying and is one of the biggest areas for improvement.
The good news is that I feel like this is a software limitation and hope Apple is able to improve sleep tracking in future releases.
Related: Comparing FitBit and Withings Sleep Tracking
The Apple Heart app complication doesn't show heart rate
This seems like a silly issue, but it's something Apple should fix. I want to see my last heart rate on my watch. I don't want to have to open the app to see it.
The workaround for this id downloading the Cardiogram app. It's a 3rd party app, but it does show your heart rate in their complication.
The sports band has a learning curve
I felt silly the first week trying to figure out how to put my Apple watch on. I looked at purchasing a different band from Apple or off of Amazon. How could Apple, a company renowned for it's industrial design, create something like this?
Well, after a few days you get the hang of it. Maybe this doesn't belong in the needs improvement category? After a few days the watch band design actually seems pretty clever. No moving strap holders to break or cause discomfort.
It does have a learning curve, but these days I can easily put the watch on with one hand. If you've already bought the Watch, don't give up. It just takes practice.
Battery life could be better
My Withings Steel HR had a battery that lasted months. My Fitbit Charge 4 lasted a full week. Coming from those watches the 18-hour battery life of the Series 6 seems pretty lacking—granted it does significantly more than those other two watches.
I am concerned that in a year or two the battery won't last more than a few hours. I'd like to see Apple improve this in the future.
The good news is that I've been wearing my Apple Watch around the clock and it is able to make it a full day. It's saving grace is the lightning-fast recharge time. It takes about 30 minutes from empty to get back to a full charge.
Notifications are noisy
The biggest disappointment I've had in moving from Android to iOS are the notifications. Apple's Notification Center is a disaster. It is almost bad enough that I've seriously considered switching back to Android. This poor design carries over to the Apple Watch where the signal to noise ratio is incredibly low.
By default the Apple Watch has a ton of notifications and almost none of them are useful. The positive thing is that Apple provides a lot of granular control over notifications. I suggest turning all of them off—this includes native applications. Then go through one-by-one and decide what is really useful.
For me there are some health related ones like environmental noise, stand reminders and heart issues. Also, very time-sensitive things like Lyft and Doordash. That's about it.
Final thoughts
The Apple watch has a few flaws, but every bad thing I say about it has an asterisk. Sleep charing isn't great, but that can be improved through software. The watch band is difficult at first, but then you realize how fantastic the design is. The battery only lasts a day, but it can charge in 30 minutes. There aren't many negative things to say.
I'd like to think that I know a thing or two about product design. My day job is designing software and I've written hundreds of posts on this forum about the design of consumer products. The Apple Watch Series 6 is the first product in a while, that completely slipped under my radar. I had dismissed it as something I wouldn't want or use—but then I received one. I was wrong.
The Apple Watch is an amazing product. And if you're still skeptical about it, I'd encourage you to try it out and see for yourself.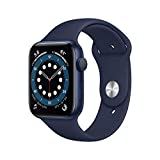 The best smartwatch
Easily the best smartwatch on the market. WatchOS is clever, modular and lightyears ahead of the competition The Series 6 includes an ECG and Blood Oxygen sensor.
---
Long-term notes
I received the Apple Watch Series 6 as a gift from work in December 2020. This is a product I'll continue to use and keep notes on. If there are any issues, I'll update this review and leave a comment here. That way you can determine how buy-it-for-life the product is.
December 2020 I received the Apple Watch Series 6 as a gift from work.
References