My girlfriend recently purchased a FitBit Versa Light. She was mostly interested in a combination of heart rate monitoring and sleep tracking. The battery lasts about 4 days. To be honest, I've never been on the smart watch train because I've never been interested in all the other stuff—custom faces, games and such.
If I were to get a smartwatch I thought it would probably be something from Withings. Withings watches still provides all the interesting health and activity data, but it looks just like a normal watch. Plus, I own a Withings Body Cardio and have the Health Mate app installed.
Withings sleep tracking looks something like this. It's fine. The charts aren't particularly attractive or detailed. Also, REM sleep tracking appears to only be available with their sleep tracking mat, not their watches.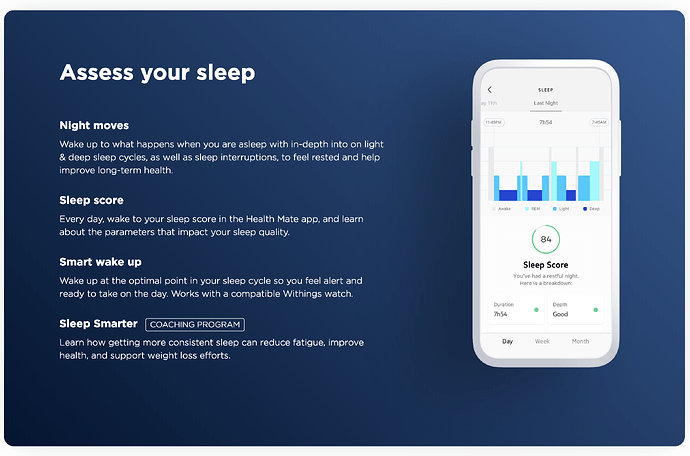 The real advantage is that Withings watches have batteries that last forever—between 20 days and 18 months depending on what watch you purchase. If you know me, having to frequently charge a non-essential item is a deal-breaker.
However, my girlfriend showed me her FitBit's sleep tracking charts one night. She said she looked at a bunch of other watches and that this chart was the main reason she chose the FitBit Versa Light.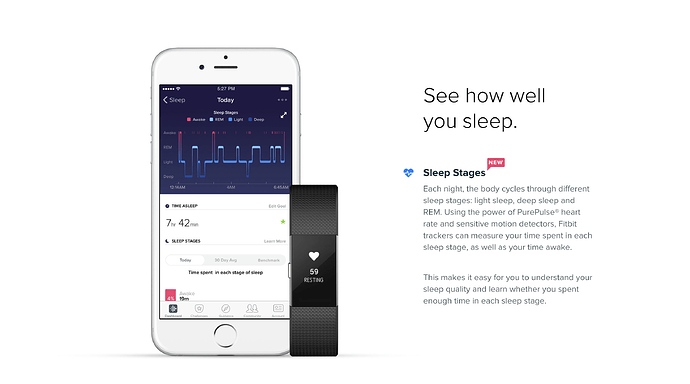 FitBit's charts are impressive. As a designer I appreciate how the ticks at the top of the chart convey the change in sleep states and you can easily see when the changes occurred. On top of that their watches actually do track REM sleep.
I still don't think I'll be purchasing a FitBit, but these charts are making me think twice. Withings, if someone from your product team is reading this—please find a way to improve your sleep tracking and charts.