The
Breville Boss To Go
is a sleek, powerful personal blender with a die-cast metal driveshaft. It has been my go to blender for years and easily liquifies leafy greens and finely grinds seeds.
Perhaps it is just me, but as a category there doesn't seem to be a lot of design love in personal blenders? The Nutri Ninja has Auto IQ over everything. MagicBullet's comparative product, the Nutribullet is covered in logos.
The best personal blender
Next to others in the space Breville's personal blender stands out. It has a stainless-steel body that comes off as both attractive and durable.
---
What's included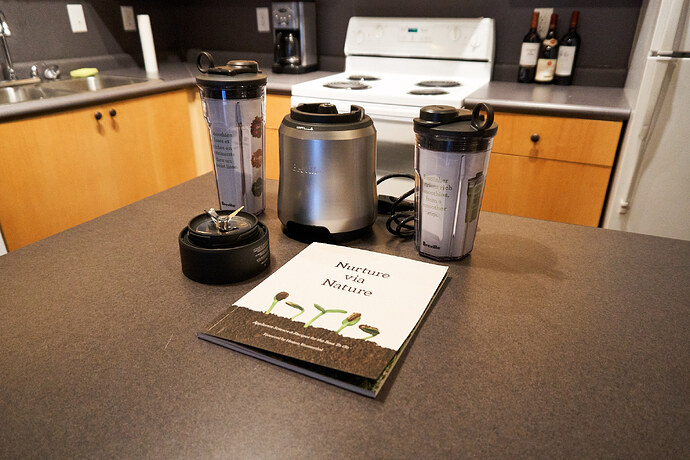 What's Included? The blender base, coupling, two tumblers and a recipe book.
What you see is what you get. Pictured above is everything that comes in the box. A 1,000 watt blender base, blade coupling, 25 and 18oz tumblers and a recipe book.
I would have gladly paid for a package that had another set of tumblers, but Breville doesn't appear to offer one right now.
The little big details
According to Charles and Ray Eames the details are not the details. It's actually the details that make the product. That's much inline with my own design philosophy. It's the collection of little things—these little big details—that actually shape our experiences with products.
Below are some of the details that make the Boss To Go an exceptional personal blender.
Metal Coupling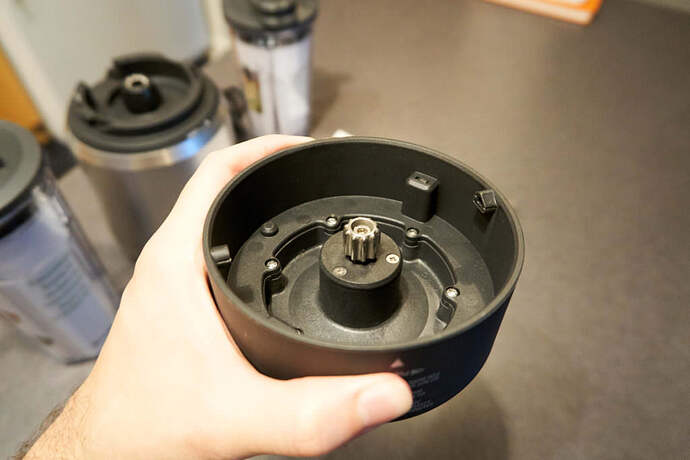 Every personal blender I researched had a plastic coupling. That was not the case with this blender. A die-cast metal driveshaft connects the motor of the Boss To Go to the blades.
I don't have any evidence, but my hunch is this blender will last longer because of it.
Cord Grip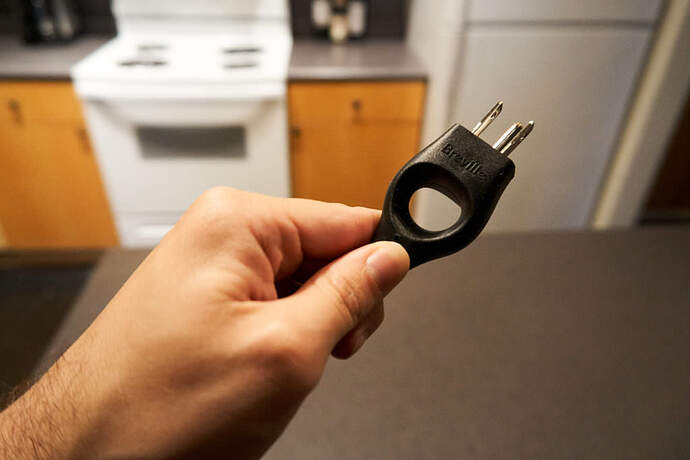 Breville uses a 3-prong power cord for the blender. That connector has a little hole in the center that makes it easier to disconnect from the wall.
This feature won't sell any more blenders for Breville. However, it's little things like this that show a lot of thought went into designing this product.
Blade Design
Most people expect blenders to have razor-sharp blades. If you've ever cleaned a Vitamix blender, you know that you have to pay close attention. It's easy to cut yourself on the blades.
The truth is, sharp blades don't necessarily result in a finer blend. Quite frankly I see sharp blades as a negative, because they pose a hazard when cleaning.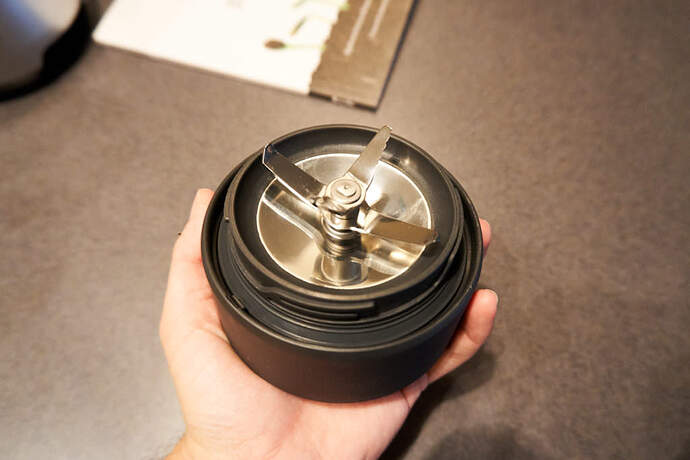 Pictured above is the coupling for the Boss To Go. It has four serrated blades. These are not as dull as Blentec blades, but it would be incredibly difficult to cut yourself with this design.
Cord Management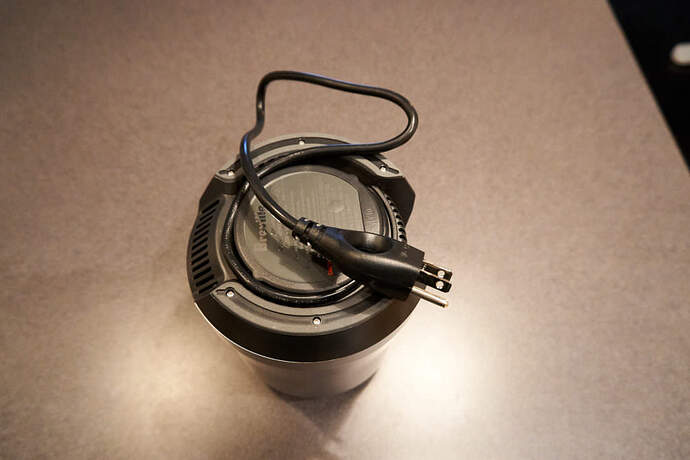 The cord management is another detail that I love, but won't sell any more blenders.
With this blender you can wrap and tuck the cord around the base. This allows you to shorten or lengthen the cord based on how close to the outlet you keep the blender. If it's close, you can wrap the cord most of the way so you don't have stray cords all over your kitchen counter.
Cup Design
If there is one feature that sets the Boss To Go out from other personal blenders it has to be the design of the two tumblers that come with it. From my research, it was the only personal blender that did not come with threaded rims.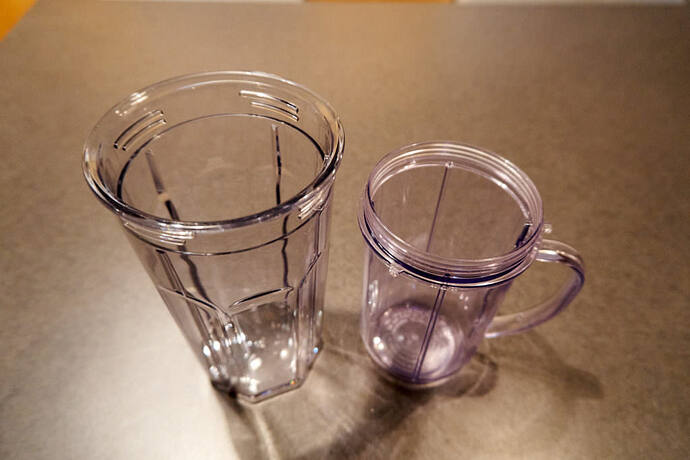 A comparison between the cups from the Breville Boss To Go and the Magic Bullet. The Magic Bullet has threads where the cup screws into the base, the Boss To Go does not._
For comparison here's the Breville tumbler compared with a Magic Bullet cup. It's pretty obvious that the tumbler is going to be better to drink out of.
For the record, the Magic Bullet does have plastic rings that you can screw on. It's just too much work to fiddle with.
Making a smoothie
My go-to smoothie is generally a combination of protein powder, greek yogurt and frozen berries. My previous blender, a Magic Bullet, was fine for that. Unfortunately, it didn't have the horsepower to properly blend nuts or leafy greens. Every time I would experiment with adding greens it would just shred them. You'd have bits left in the smoothie that you would have to chew—it wasn't ideal.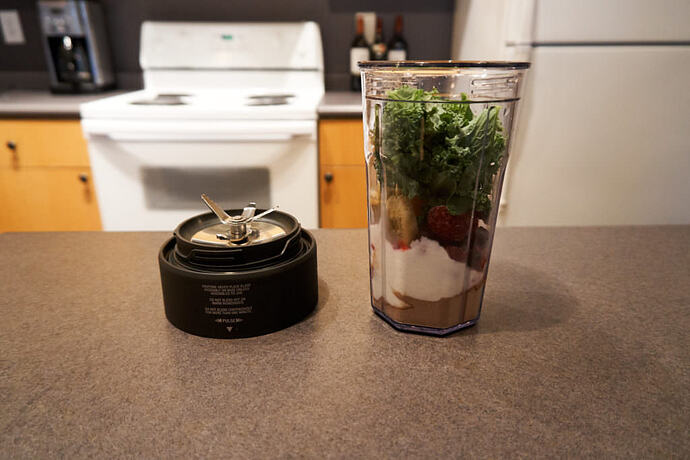 For the Boss To Go, I've been making the same post-workout smoothie. Specifically, here's what's in the smoothie above.
Chocolate Protein Powder by ON —it really is the best tasting
Greek Yogurt
Frozen Raspberries
Frozen Blackberries
Frozen Strawberries
Frozen Bananas
Fresh Kale
Water
OK, let's get blending.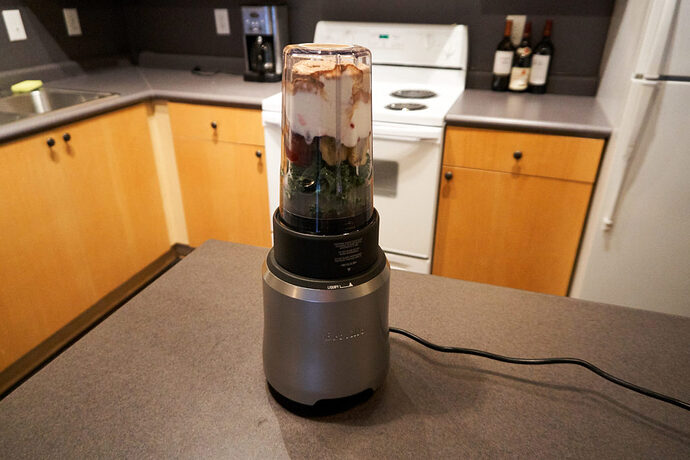 Unlike the Magic Bullet and Nutribullet, you twist the top to start blending. Of the negative reviews I found about the Boss To Go, this was consistently the number one reason people didn't like the blender.
I found it a more awkward than difficult. It takes a little torque, but I don't think it's a deal breaker at all.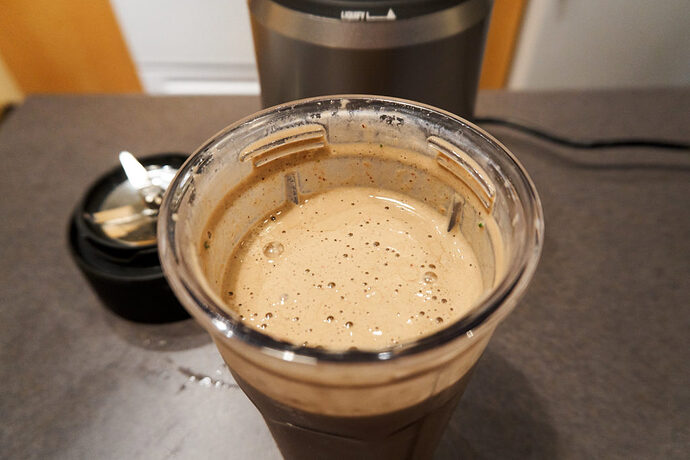 The final product. Everything has been completely liquified.
You can see little specs of the kale, but that is it. The shake has a slight green hue from the kale, but I can't really taste it over the fruit and chocolate. You certainly don't have to chew it like with lower-power blenders.
For the most part the Boss To Go has also pulverized the raspberry seeds.
What to like about the Boss To Go
OK, so a quick recap. What makes this the best personal blender?
Most blenders in this price range—really this segment—have plastic couplings. The Breville has a die-cast metal coupling and driveshaft. That will certainly help this blender last.
The smooth-rimmed tumblers are fantastic. Generally you'd unscrew the cup from the blender top. Then you would screw on a rim or a top provided by the manufacturer. Or, if you're lazy like me you ignore the threading and drink it without screwing on the top. Other than the clever mechanism, they are super durable. They have to be some of the best drinkware included in any set I've seen.
Other stuff to like:
BPA-free tumblers
Cord management
Spillovers drain to side (instead of through a drain bottom of the blender)
What's not to like
Boss To Go is a pretty lame name. I get it. The Boss is their flagship blender. It's easier to make smoothies to go with a personal blender. Seems like Breville missed an opportunity to name this the Mini Boss. The name doesn't appear written anywhere on this device, so this is a bit petty.
I wish this came with more than two tumblers (or two of the same size). Packages that include extra cups seem to only appear at the lower-end of the market. With that said, extra tumblers don't appear under accessories on the Breville site.
As I mentioned earlier, the twist mechanism to start blending feels a little odd. The blender base is heavy enough where it doesn't move. Maybe I'm just used to pushing down on the Magic and Nutribullet.
The best personal blender
Next to others in the space Breville's personal blender stands out. It has a stainless-steel body that comes off as both attractive and durable.
---
Long-term test notes
Published August 8, 2017: Published the Breville Boss To Go as a find.
September 4, 2017: In need of a personal blender I've purchased the Boss To Go. After spending a couple weeks with it, I'm promoting this article from a find to a review. Details added below.
October 24, 2018: I've had this blender a little more than a year. I will say there are times when the top has become difficult to twist—which is the mechanism that starts the blender. It seems like the push to blend is an easier and more obvious way to start the motor. In either case it's still a fine blender, but something that has become more noticeable.
June 12, 2019: Still a solid blender for smoothies! I've been using it to make salsa and other things lately.
August 14, 2020: Not a single issue with this blender in 3 years of (at least) weekly use. If you're looking for a powerful alternative to Nutribullet, the Breville Boss To Go is the best personal blender you'll find.
October 6, 2020: Thought I was going to have to look for a new blender. While making a smoothie yesterday the motor stopped working. That seemed to be temporary though—perhaps the motor just needed to cool. It seemed to work fine this morning.
Sources and further reading
Blending with Henry, Breville Boss To Go Personal Blender review, April 2016
The Food Mentalist, Breville - The Boss To Go Plus - A Review, May 2016
Blender Authority, Breville Boss To Go Review – Is It the Top Personal Blender?, May 2016
Originally published August 8, 2017