Note: this review is for the OXO coffee grinder that includes a scale. Recently, OXO introduced a similar model with the same name that is less expensive and does not include a scale.
Continuing the conversation from this topic:
I was looking for a conical burr grinder and ended up going with the OXO On Conical Burr Grinder. Here's a quick review. As with most topic, I'll also keep this post updated with my long term product notes.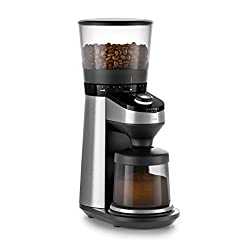 An excellent coffee grinder with a built-in scale.
If you don't need espresso fineness, OXO's Conical Burr Coffee Grinder is an excellent choice. The grinder is perfect for drip, french press or moka pots. Unlike most coffee grinders it leaves behind little mess and as a convienient built-in scale.
Considerations
There were a handful of things I was looking for in a coffee grinder:
No Mess - Making coffee is inherently messy and almost every burr grinder I've seen makes a giant mess. This was the most important consideration for me.
Aesthetics - Most of the time this grinder is just going to be sitting on my counter. How does it look when I'm not grinding coffee?
Grind Consistency - How close in size are the grinds? When most people are looking for the best coffee grinders this is what they are looking for.
Built-in Scale - Most grinders don't have a built-in-scale, but I'm for less work in the mornings.
Use cases
Grinding coffee directly before brewing it is absolutely the easiest way to improve your coffee game. It is so much better than using week or month old grounds.
Lately, I've been using my Bialetti Moka Pot for most of my coffee, but also make a fair amount of drip coffee. I have an Aeropress that I use occasionally. The grinder works perfectly in all those scenarios.
Good things
The built-in scale is not super-precise, but it is good enough for everything but espresso.
I love the cups measuring system. I preset the strength of the coffee I want. When I'm ready for coffee I simply select the number of cups I want and push the button—it grinds the right amount of coffee I need.
Both this grinder and the OXO Barista Brain Coffee maker are interesting looking and attractive. A lot of people that come over ask me about them.
A good number of reviews I read claimed that this grinder was messy. I wonder if these were people that had not had previous experience with coffee grinders? All of them create a bit of a mess to an extent. The Baratza grinders, which both Roasty and The Wirecutter recommend, are make a huge mess. I'm glad to report that the mess is minimal and when there is one, the removable scale tray makes it easy to clean.
Could be improved
If you're looking to make espresso, this is probably not your grinder. You will need a finer grind than this machine is capable of—especially for unpressurized espresso.
The scale isn't exact. While I have not tested this myself, every test I saw reported 1/4-to-1 ounce more than the desired amount. My guess is that it takes a bit more time for the coffee to go from the Burr grinder through the chute and onto container that rests on the scale.
Just eyeballing it, consistency is OK. Works well for drip, but as the Wirecutter mentioned, the Baratza grinders will provide a much more consistent grind.
The outside collects smudges and fingerprints pretty easily.
Final Thoughts
If you're simply looking for a way to up your coffee game the OXO On Conical Burr Grinder is about as good as you can do. It's probably not for the aficionado that needs an espresso grind. I purchased mine on sale for about $120 and think it's an absolute steal at that price.
Long-term testing and notes
February 5, 2021
Several years on our OXO Grinder is still going strong. It doesn't get daily use anymore—our Nespresso Evoluo has replaced some of the need. But we do use it for our Chemex and french press on the weekend. I still think it's a solid purchase for people that have a drip coffee maker and want to up their coffee game.
November 23, 2019
I've been using this burr grinder for about two years now. It's has been reliable and leaves little mess. Lately I've been using it with my Moka Pot more than for drip coffee.
December 15, 2018
I am still incredibly happy with this grinder purchase. However, if this isn't on sale or you've got a tighter budget, it looks like OXO has introduced a cheaper model of this grinder that starts at $100.
It's called the OXO BREW Conical Burr Grinder and The Wirecutter seemed to like it.
Be cautious though. Fakespot gives the review quality a D and an adjusted rating of 2 out of 5 stars.
December 3, 2018
It's been about a year since I purchased the Barista Brain and have been super-happy with it. Although it looks like it is now called the OXO On Conical Burr Grinder with Integrated Scale—quite a mouthful. Updating parts of this review to account for the new name.
Sources and further reading
The Complete Guide to Coffee Grinders, Roasty, Retrieved 12/15/2018
The Best Coffee Grinder, The Wirecutter, Updated 12/7/2018
Originally published 9/21/2017