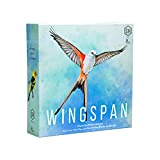 A bird-watching, engine-building board game
The critically acclaimed board game, Wingspan, is a top pick among board game enthusiasts. It has won acclaims from BoardGameGeek and The New York Times/The Wirecutter.
Deal Details
Enter deal details such as coupons or promo codes. Include specific steps if applicable.
Wingspan, the board game, is currently on sale at Amazon. According to Honey, this is the lowest the price has been in more than 120 days.
This deal is only for the base game and does not include the European or Oceana expansions.
Product Comments
Comments about what makes this product notable.
A few notes about Wingspan:
Players 1-5
Play time 40-70 minutes
Difficulty 2.42/5 (BGG)
Wingspan is an engine-builder game where you build a system in the early game that helps you in the later game. If you're into games like Splendor, it's absolutely something worth checking out.