My 2011 Ford Mustang was parked on the street while I was at my girlfriend's place this weekend. When I was walking to my car the following morning I saw a bunch of debris on the ground and was initially worried that someone had broken into my car. A few steps further and I realized it was worse.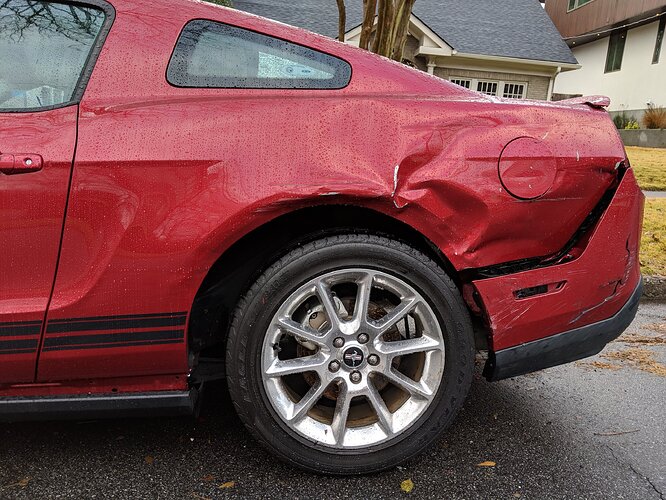 It was a hit and run. Someone had swiped rear driver-side part of my car hard and drove off without leaving a note or anything. I don't have any way to know who hit me. Without a plate number I'm not sure it is worth opening a police report.
If I had a camera in the car, I could have figured out when the car moved and potentially got the plate number of the person driving off. So here I am starting research on dash cams.
I am not quite sure what to look for here. My main concern is concealing wires. It doesn't appear that wireless dash cams are a thing—so I'm not sure what my options are. It would be nice to have it fit on the other side of my rear view mirror as well. What are my options here? I hate clutter and having wires everywhere is a deal breaker.
Reliability and video quality—especially in low light—are probably the next most important things. The Wirecutter's Best Dash Cam review has the Garmin 65 as their upgrade pick. Ars Technica has the Garmin 55 as their top pick. Even with those recommendations the reviews are mixed. Those cameras are small, but apparently have issues overheating.
What else am I missing here? What makes a good dash cam?