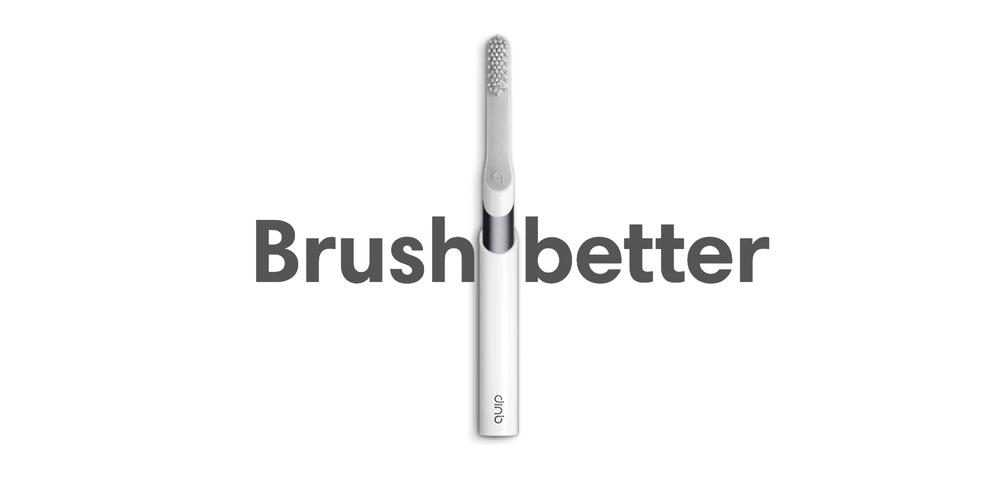 The working title of this post was Quip Toothbrush Review: Don't Switch from Your Electric Toothbrush.
Those switching from a normal toothbrush loved it, while those who put away their electric toothbrushes eventually returned to their Sonicare or Oral-B Pro. Considering my perspective comes from using a manual toothbrush, I've decided to simply say that this is an upgrade for manual brushers.
Anyways, the link below contains a promo code for Quip. If you decide to make a purchase, we'll both get $5 off our next refill and be one step closer to clean teeth.
Is the Quip any good?
It's interesting reading reviews for a product as simple as a toothbrush. What is amazing is how varied the Quip reviews are. Some think it is the best thing ever while others say it is an ineffective waste. Are those reviewers talking about the same product?
I think Quip's issue here is one of expectations. The Quip isn't much of an electric toothbrush. Sure in vibrates, but I'd say that serves as more of a timer for how long you should brush as opposed to an effective method for cleaning your teeth.
Pricing and business model
Quip's pricing can be a bit confusing. Their website has additional options for groups and families. However, these are the main options:
| Starter Set | One-time Purchase | Subscription Plan |
| --- | --- | --- |
| Plastic Toothbrush | $35 | $30 then $5 quarterly |
| Metal Toothbrush | $50 | $45 then $5 quarterly |
| Special Edition | $65 | $60 then $5 quarterly |
The subscription plans are obviously cheaper. If you do decide to get a subscribe they will send you a new brush head every three months. For an additional $5 they'll also send you toothpaste.
If you pre-pay the subscription for a year, you'll get an additional $5 off.
Aesthetics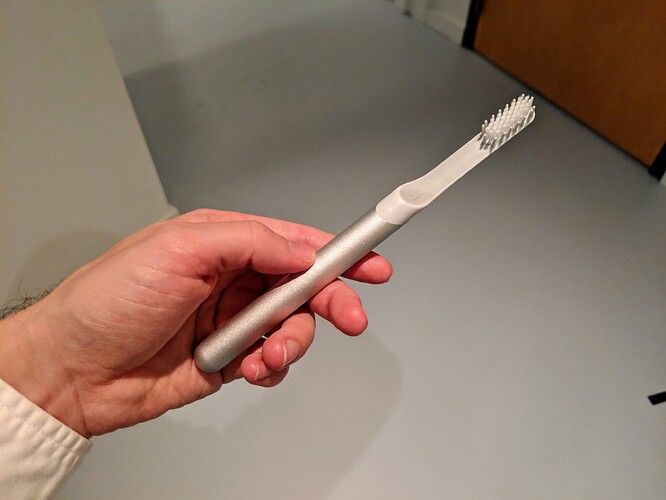 The market for toothbrushes is interesting. It's full of bright colors, crazy grips and extreme textures. Walk through the dental aisle of a Walgreens or CVS. It feels like every toothbrush is fighting for your attention.
I don't understand it. Is that what marketing departments have decided sells toothbrushes? In my shave club review I even joked about some razors looking like amped-up toothbrushes.
Quip's toothbrushes are just the opposite. There are no bright colors. It's not screaming at you. They are quietly interesting. Even Quip's all-black toothbrush feels subdued. It has almost a Muji-like aesthetic.
The base pictured above is Quip's metal electric toothbrush. It's smooth and has a good weight to it. The brush head is rubber and has a tongue scraper on the back.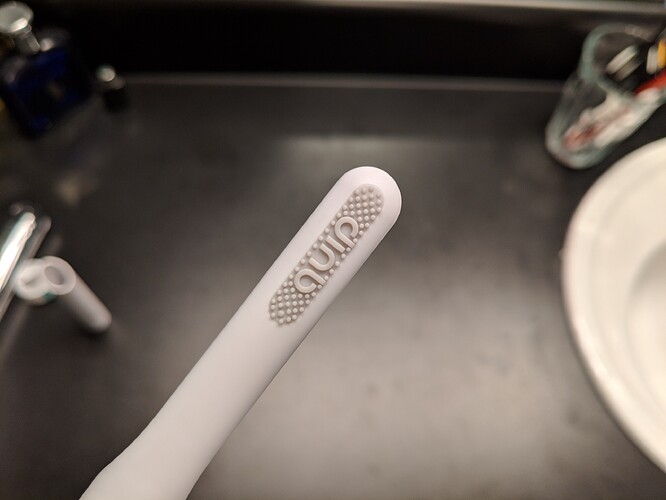 If you don't want to spend money on the metal version, you can also get a plastic base for $15 less. Admittedly, I can't comment on the quality of that base.
All-in-all the materials feel great and make this a great-looking toothbrush.
Use and brush quality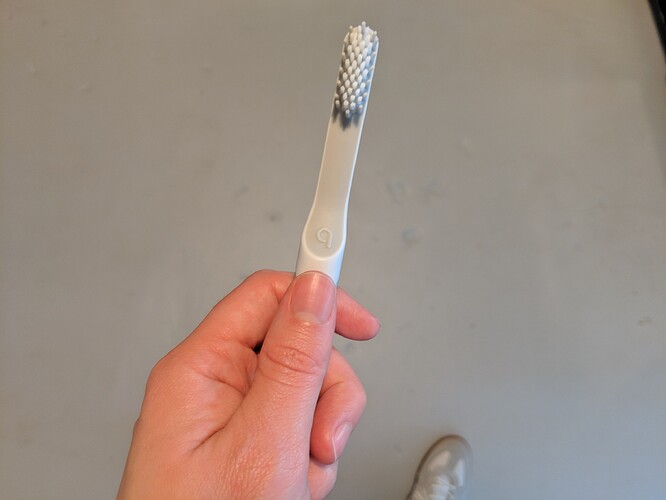 So how exactly does the Quip work?
It's rather simple. The Quip logo at the bottom of the brush is a button that either starts or stops the toothbrush from vibrating.
Once the toothbrush starts vibrating there is a longer pulse every 30 seconds. This is to remind you to start brushing the next quadrant of your mouth (upper left, bottom left, upper right, bottom right). After two minutes there is a triple-pulse, which signals that you're done. You can use the tongue scraper or brush your tongue.
Personally, I'm a fan of the toothbrush—although I don't know if it's going to beat the brush quality of higher-end electric toothbrushes. With the Quip you still have to brush. The vibrations won't do the brushing for you.
If your primary concern is brush quality, you might not want to switch to Quip from your Sonicare. I think you'll be disappointed. If you hate your charging stand, wires and want to simplify brushing your teeth, the Quip might be a good option.
For all you manual tooth brushers out there—this is a serious upgrade.
Quip toothpaste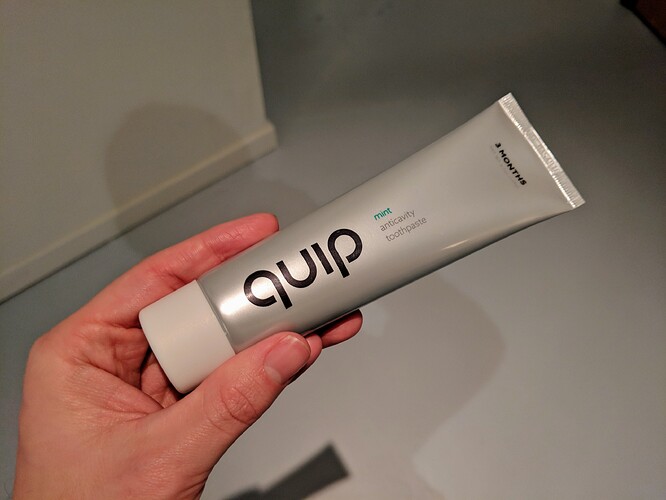 For an additional $5 per shipment Quip will send you their toothpaste. Knowing that I was going to write a review, I opted to include it in the shipment.
It tastes fine and has all standard ingredients included in all toothpastes—perhaps a little less minty. I wouldn't say that I prefer it over Colgate or other traditional toothpaste brands.
One thing I'm a bit skeptical about—this 4.7oz tube is supposed to be a 3-month supply. I brush my teeth twice a day and feel like toothpaste lasts forever. Am I really going to go through it in 3 months?
I suppose we'll see.
Also, here are the ingredients in Quip's toothpaste foy anyone interested.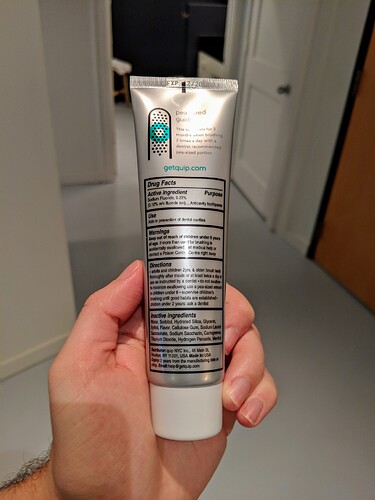 Water, Sorbitol, Hydrated Silica, Glycerin, Xylitol, Flavor, Cellulose Gum, Sodium Lauroyl Sarcosinate, Sodium Saccharin, Carrageenan, Titanium Dioxide, Hydrogen Peroxide, Menthol.
If you're interested in what each of these ingredients do, Quip has a brief explanation on their website.
Complexity and overhead
I don't buy things that make my life more complicated.
In the world of electric toothbrushes virtually all products come with some sort of charging stand or extra cables. I don't want extra stands and such on my bathroom counter. I don't want to have to keep track of a charging cables. I don't want to have to plug my toothbrush into my computer to charge it.
This is a pain point Quip understands.
We heard a lot of negative feedback from other electric toothbrush users who hated the need to keep it charged, hated how large the charger and brush was and Hated how gross the charger became or the fact that their batteries wear out after a year (leading to a need to replace the entire brush as the batteries were locked inside!)

We wanted to change this and realized that, by already having to replace your head every 3 months, this was the perfect opportunity to also change or charge your brush! So at the same time as replacing your head, you simply drop in a new or recharged AAA battery and no longer have to worry about keeping it charged for another 3 months! This also allowed us to make a brush that is far slimmer and more travel ready than any on the market!
Perhaps the best thing about the Quip is that it doesn't change anything. It simply has a single AAA battery that can be replaced.
Honestly, this more than anything is why I decided to give Quip a try.
How well does it actually stick to mirrors?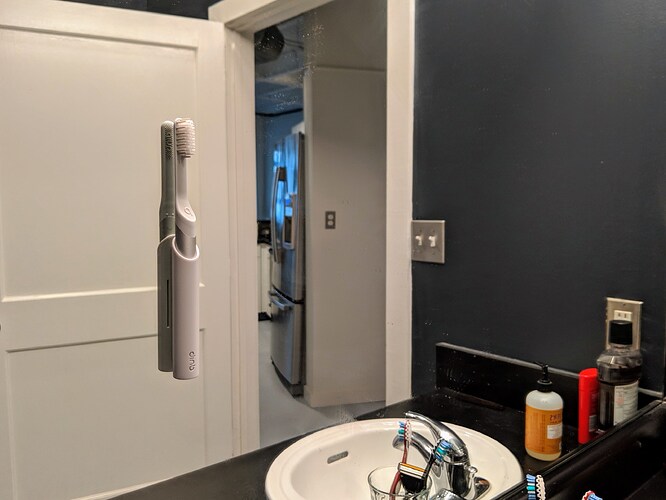 Surprisingly well!
The quip comes with a travel case that has an adhesive strip—it does kind of seem like magic. I am not entirely sure what the adhesive is made of, but it stuck to my mirror quite well. It seemed to handle the weight of me dropping the toothbrush into the holder without dropping.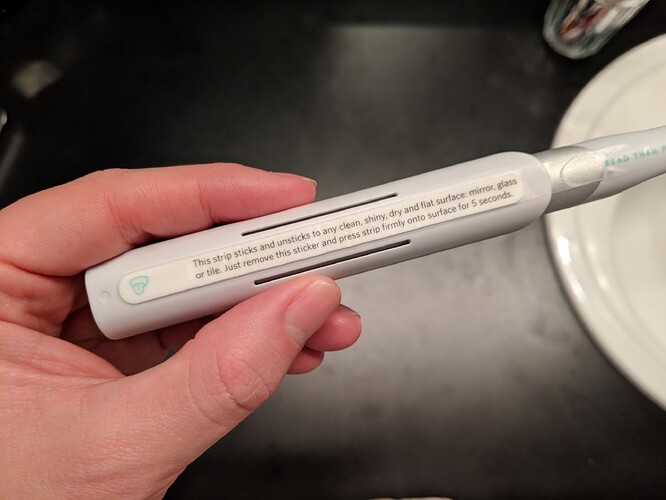 The adhesive didn't leave any marks on my mirror when removing it. I also didn't have any issues sticking it back on the mirror after removing it a couple of times.
Even though this works quite well, I prefer just to keep my toothbrush in a cup.
Final thoughts
If you top priority is brush quality, I wouldn't switch from Oral-B or Sonicare. However, if you hate your charging stand, wires and want to simplify, the Quip might be a good option.
I'd strongly encourage anyone with a manual toothbrush to give it a shot. It's rather inexpensive and is a solid upgrade.
Long-term test notes
February 5, 2021
I'm still using my Quip toothbrush and love it. Great aesthetics and I don't have to think about when to replace the brush—a new one automatically shows up every 3 months. I don't have worry about cleaning some stand that will get gross. It's easy and something I still recommend.
May 16, 2019 - First Refill
Received the first Quip refill today and still have a ton of toothpaste. I love the product, but am going to be downgrading to the brush refill only plan. I've got enough toothpaste to last me the rest of the year now.