I have an iRobot Roomba 614 that is about 2.5 to 3 years old. It's a base model, but I love the simplicity of the Roomba—there's no WiFi, scheduling, remotes or fence thingies to mess with. I simply push the button on top of the robot before work and I come home to a clean apartment.
The Roomba works fine, but I am thinking about upgrading again. The 614 is loud, large, bumps into things pretty hard and only has 600pa. It seems newer robots in the $200 price range are quieter more nimble and have 1000pa or more.
I don't have any pets, my flooring is a dark (almost black) stained concrete and the layout is a simple studio apartment. I do not want a WiFi or app-enabled vacuum.
Any thoughts or ideas? Currently, my top choices are the Eufy RoboVac 11S / RoboVac 30. I'd happily purchase another Roomba. Unfortunately, it seems like all the current Roomba generation is all Wifi.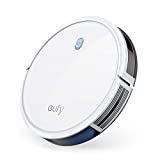 A quiet robot vacuum
This is a quiet, affordable vacuum with a slim profile that lets it slip easily under furniture. It rarely gets stuck and has an excellent run-time.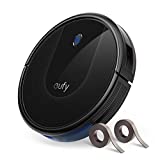 Slightly more power, includes boundary strips
Similar to the Eufy RoboVac 11S, however this model has slightly more power and includes boundary strips that prevent the robot from going into specific areas.