My girlfriend and I went over to a friends place this weekend for board games and a few drinks. We ended up playing Catan and now I am absolutely obsessed with it. It's like a board game version of Civilization.
Anyways, I am a bit confused about the Expansions for Catan and was hoping someone here could provide some guidance (paging @IanReese). I found this chart on the Catan website, but am more confused than when I started looking at it. The chart makes it seem like they are all compatible, but there is a read more link with a bunch of exceptions to keep track of when combining the expansions.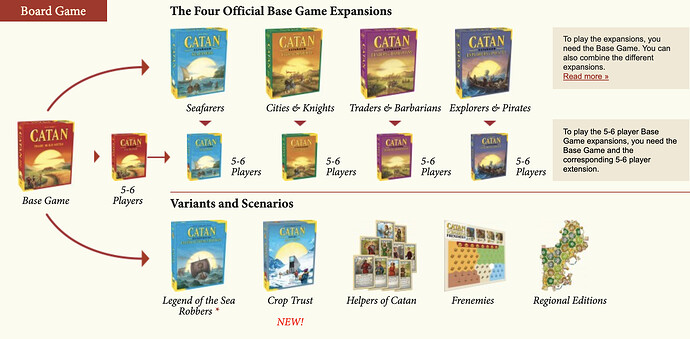 From what I can tell the main expansions are:
There are also a ton of different scenarios, which I assume are only for serious Catan players.
I think there are actually a few questions in this post. Which Catan expansions be played with each other? Is the Catan base expansion required for Seafarers or the other expansions?
Also, would love opinions on the best expansion for new players.